Forgotten Anne...
November 22, 2018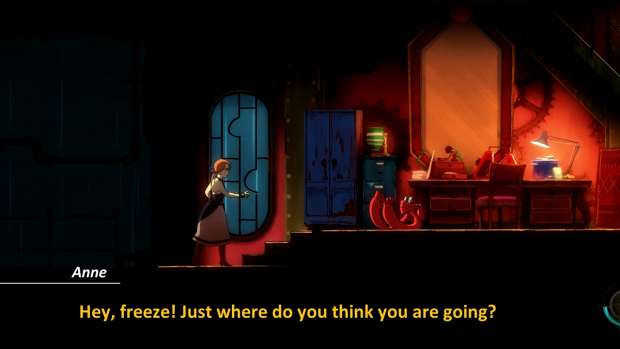 | | |
| --- | --- |
| | ...is very British. |
I suppose I should have seen it coming, and I won't dive too deep now, but it's good. So far. Consistent animation, variable voice acting - how many productions have top notch VA? This is coming from Square/Enix, there shouldn't be an excuse for this. It's a beautiful game, almost lush; the world is written with deep lore and a satirical sense of humour that just doesn't seem possible in North America.

Of course I'm wondering just how predictable it is. I see some of the setups already; a questionable motivation, a naive protagonist... been there done that. That's okay, too, if it's well done - and so far, it is. So here's hoping the rest of the ride is of the same quality.

Meanwhile...

Does it interest anyone else that Intel has walked face first into a brick wall? The last two generations of CPUs aren't new, and the 9th Gens are literally soldered versions of the last gen. I get it: Intel's in a tight spot. EUV lithography isn't ready for prime time yet. At present Samsung is the only company publicly talking about their work on it. There's no easy move here, because they need to retool their entire process - or large portions of it.

I have no sympathy for Intel at this point. They painted themselves into a corner, and so help me if Apple's sluggish approach to hardware upgrades makes just a smidgen more sense now. What's the rush? Impatience, cost recouping, sure - I get it. They're locked in a cycle with billions of R&D invested. It's not as though I want them to fail.

More cores and PCI lanes are crucial for productivity, but as gamers our needs are - shall we say - more specific. While I'm on the topic, I'm of the opinion that the industry is approaching technology all wrong. We need to equalize performance across all components of the PC in addition to reducing how many their are. Competition makes this a complicated proposition, however. Absolutely PC manufacturers and engineers understand this. I've seen some splendid moves in the right direction, and certainly smartphones are the best example of that gap bring bridged.

As for my own needs, I'm still more than getting by with my i7 2600 and GeForce 1030, and my little ol' laptop for writing. That said I game almost exclusively on my Switch now, and at the moment my massive Steam library is irrelevant. How rational is that? It's not, really, except that it's a choice to combat RSI. I plan to pick up a vertical mouse this winter, and yes, I know it's not ideal for gaming either. The Switch is more interesting right now, and certainly gets a lot more attention on HG, at any rate.

I'd like to lay this out: If you're planning an upgrade, what's your timeline and plan?

If not, why?

I have long term plans to upgrade my faithful reclaimed retail HP PC, but they're looong term. This wee beastie serves my needs admirably, and if absolutely needed can suffer one or two upgrades in the interim. I'd like to stay in i7 category performance, though that necessitates spending more than I can afford, were I to build a new machine from scratch. So, it'll wait, but I am watching their next moves like a hawk.