Battlefied – Original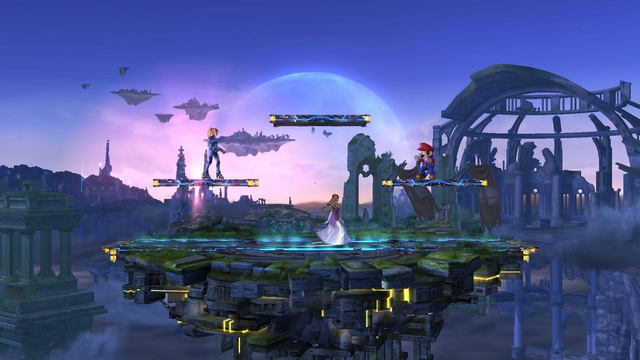 Battlefield is a very basic stage. It's somewhat small, and has three platforms floating above it. Nothing really happens here, except that day cycles to night and then back to day, which is simply cosmetic. It's actually a more "fair" stage than Final Destination, because, while nothing happens to interfere with the fight, platforms encourage more aerial skirmishes to go along with the ground ones. This means both aerial and ground characters can have the advantage in certain situations, as opposed to the perfectly flat Final Destination, which seems to have been designed specifically for Little Mac.
Big Battlefield – Original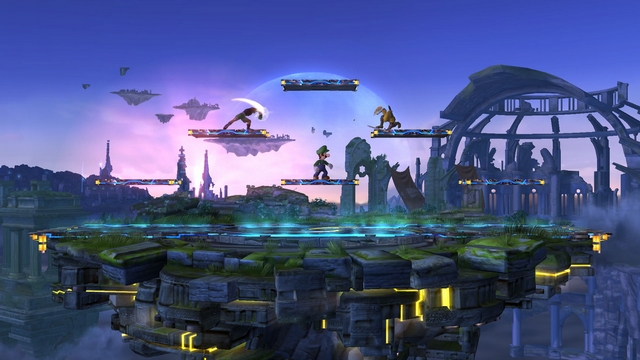 This stage is simply a larger version of the Battlefield. It has six platforms, arranged in a pyramid, and is wider than the standard Battlefield. Other than that, it's identical to the small version. This stage appears to exist as a Battlefield that's more suited to eight player Smash matches.
Final Destination – Original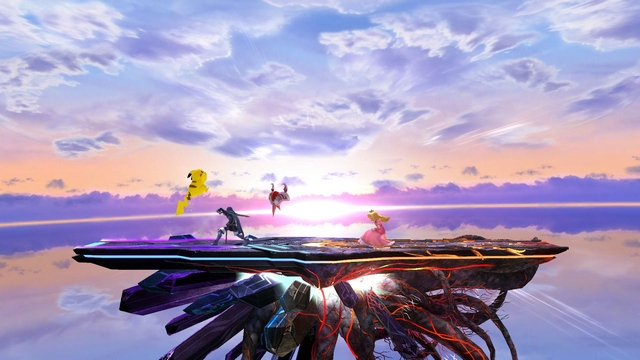 Final Destination is a flat stage where nothing happens. It's meant to be a fair ground for true tests of skill, but it gives more ground-based characters an advantage. This stage is actually a bit unnecessary in this game, since you can turn any stage into a "Final Destination" by switching it to "Omega" mode, which removes all platforms and occurrences and makes it flat. One thing Final Destination has going for it is its crazy backgrounds that continuously shift as the battle rages on.
Mushroom Kingdom U – New Super Mario Bros. U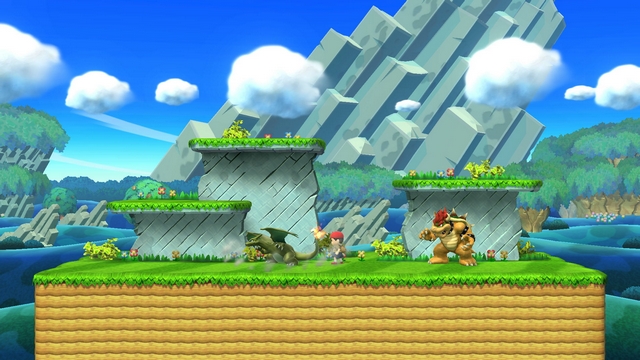 This stage opens on Acorn Plains, which is simply three thin platforms distributed haphazardly over the solid ground. If floating platforms appear, you can stand on them, but don't let them carry you away. When Kamek shows up, he'll transport you to another area from
New Super Mario Bros. U
. Meringue Clouds is similar to Acorn Plains, with one fewer thin platform and a large gap in the centre. When you find yourself inside Slide Lift Tower, be careful of the moving platforms. They'll roll over each other and push you off if you get careless. At Rock Candy Mines, you'll find yourself on a platform that tilts left and right. Soon, a beanstalk will grow, and you'll be able to stand on its leaves. These areas can appear in any order, so you won't know what to expect when Kamek appears. A few hazards appear in multiple phases. If you see a droplet of water, move out of the way. It means an icicle is about to fall from nowhere and will damage you if it lands on you. You can stand on it after it hits the ground. Attack it and it will shatter. Jets of water will appear on either side, which you can stand on, unless they're carrying a spiked ball, in which case you should avoid them. The water spouts will disappear after a moment, so don't fall. If yellow blocks appear, you can stand on them. They'll expand and contract horizontally, but they're not very dangerous. Definitely watch out for Nabbit. If he grabs you and stuffs you in his bag, he'll try to fly away, and if he reaches the edge of the stage, you'll be KO'd. You can KO Nabbit like any other fighter.
Mario Galaxy – Super Mario Galaxy
This stage is a bit strange, because the entire thing is curved. It's a tiny planet, so "up" is relative to where you're standing. If you're on the left side of the stage and simply hit the jump button, for example, you'll travel diagonally up and to the left. This can make projectiles difficult to aim, since they are generally not affected by gravity, meaning most will travel diagonally. There's nowhere to fall on this stage, so you can simply walk all the way off to the left or right. There are two small floating platforms, but there's not really much else to this stage. Enjoy the nice view and pretty lighting effect.
Delfino Plaza – Super Mario Sunshine
This
Brawl
stage defined the concept of a stage that is basically a tour of a larger world. This stage begins as three vertically stacked platforms, floating above the ocean. The platforms fly towards the Plaza, occasionally landing for the fighters to duke it out in a specific spot for a while before taking off again. Don't get left behind when it's about to leave. The platforms will be arranged differently each time you take off, but it's always some basic formation. Most landing areas have water, and sometimes it's deep enough to swim in. Don't spend too long in there. There's nothing for you there, and you'll get tired and drown after a while. Not that you'll be staying in any one place long enough for that to happen by anyone's volition but the drowning victim's. You'll land in the areas in a random order, and nothing special really happens in any of them. They're basically just shaped differently, and only the top of the Shine Gate has an area where you can fall. (That's easy to do while you're on the flying platforms, though.)
Mario Circuit – Mario Kart 8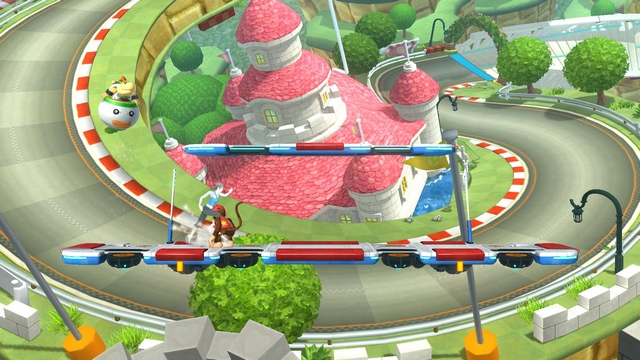 This is another tour stage, this one based on one of the twisting courses from
Mario Kart 8
. You begin on a pair of platforms floating over the track. The platforms will float along the track. Don't hit the track when you move close to it, because it will damage you as though you've fallen out of a speeding car and hit the street. You'll temporarily land on various spots near, but not on, the track. When you see a sign with up-pointing arrows appear, get ready to move on. Also watch out for the warning sign that will tell you when Shy Guys in karts are about to zoom along the track. If they hit you, you'll take damage and be sent flying. The track is often running along the background or acting as a wall on the side, so the Shy Guys can appear in strange places.
Mario Circuit (Brawl) – Mario Kart
Brawl
's version of Mario Circuit is more basic than the new version. You stay in the one area where the track crosses over itself in a figure 8. Shy Guys in karts will appear from the background or from the left. You'll be able to tell where they're coming from using the warning sign that appears shortly before they do. Alternatively, just keep track of where they were last time, since it's a linear track. The monitor in the background will keep track of them as well. Attack a Shy Guy to cause it to spin out. You can't fall off this stage because there's nowhere to fall.
Luigi's Mansion – Luigi's Mansion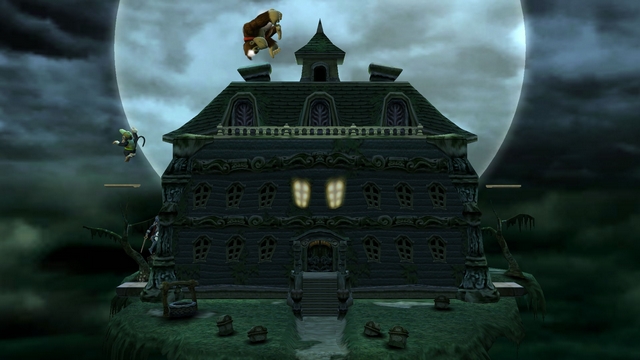 This stage from
Brawl
takes place on and inside of a two-floor "mansion," though it's a bit small to be called a mansion. You can fight on the first floor, second floor, or roof, meaning this stage has a total of three levels. Keep in mind that the floor is too thick to pass through, except for the thin part at the centre. Rooms are held together by pillars, and if you destroy one of the four pillars inside, one of the four rooms will collapse. A room cannot be destroyed if there's another room on top of it. After it has been completely destroyed for a little while, the mansion will restore itself to its original condition. The tiny floating platforms that appear and disappear on either side of the building are not part of the mansion itself and are unaffected by the destruction. The interior of the mansion is only visible if someone is inside of it. If all players are outside of the mansion, you'll see its exterior instead, unless part of it has been destroyed already.
Jungle Hijinxs – Donkey Kong Country Returns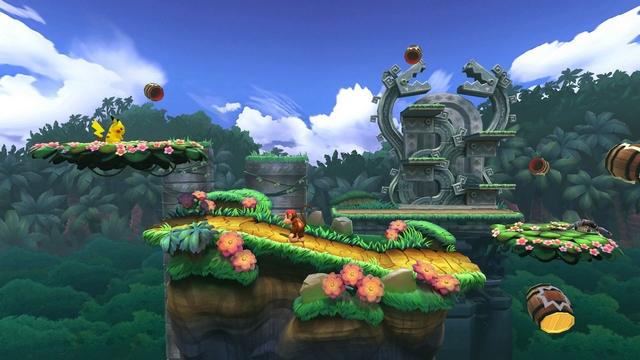 This stage is unique in that you can move between the foreground and the background using barrel cannons, which appear in different spots, disappearing and reappearing at random. You'll land with an impact that can damage foes, or you can press the shield button as you land to ukemi and quickly recover. Barrel cannons in the foreground will explode and damage you if you use them while still on fire from having just used a cannon, so don't overdo it. The foreground is the starting area, consisting of a sloped central platform with a small platform on each side. The background is larger, with one large platform below four thin ones, with two more solid platforms on the left side. Knockback is increased a bit when fighting in the background. Sometimes a pillar will appear between the two layers, and launching into it with a barrel cannon will cause it to collapse and bounce you back to whatever layer you launched from. If the pillar lands on anyone, it will damage them. Sometimes the main part of the foreground, or the entirety of the background, will crumble away, leaving behind a few barrel cannons. Blue arrows will appear above the ground before this happens, so be ready. Cannons won't explode while the ground is gone.
Skyloft – The Legend of Zelda: Skyward Sword
Tour the town of Skyloft on floating platforms, landing now and then to duke it out in various spots on solid ground. You begin on a set of floating platforms that resemble the Battlefield stage, but the shape of this platform can change slightly between stops. You can tell that you'll be leaving soon when arrows appear in the background, so make sure you're reasonably close to the centre of the stage so you don't get left behind. Skyloft is, itself, suspended high above the clouds, so even on solid ground, there are many places to fall. Spots you'll visit include, but aren't limited to, the exterior of the Goddess' temple, the top of the Knight's Academy, the lighthouse, and the top of the Goddess statue. You'll visit areas in a random order. Nothing special happens in any of these locations, but watch out for the island with the waterfalls. It's not immediately apparent that the water isn't "solid" and you'll simply fall through it and potentially die.
Bridge of Eldin – The Legend of Zelda: Twilight Princess
This long, flat stage from
Brawl
seems simple enough at first. Eventually, a horn will sound, and King Bulblin will come riding out on his boar to drop a bomb that explodes and does lots of damage and sends anyone nearby flying far. This will destroy the centre area of the bridge, meaning you can fall or knock foes down into the pit. Eventually, a portal will appear, fixing the bridge and resetting the stage. If you hit King Bulblin enough times before he reaches the centre of the stage, he won't drop a bomb at all.
Temple – The Legend of Zelda
This was the first stage in the series, first appearing in
Melee
, that was remarkable for being huge. When four or more players are fighting on this stage, it's very easy for isolated skirmishes to break out in different parts of the stage. It can be difficult to KO people in the underground area because they have a tendency to bounce off the low ceiling.
Pyrosphere – Metroid: Other M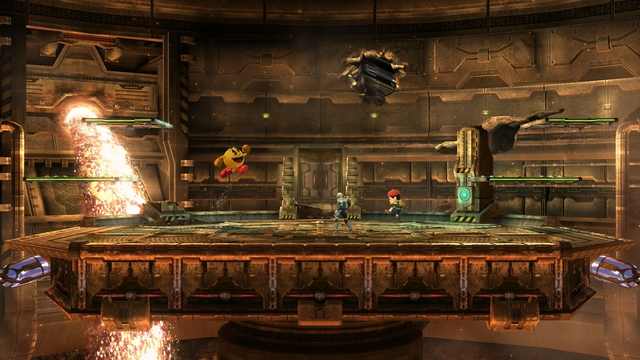 This stage is long, with four small platforms floating above it. Soon, Ridley will appear, and start using huge, powerful attacks. He can breathe fireballs (which hit the ground and expand), fly and swoop around, swipe with his claws, and stab through the floor with his tail. If someone manages to knock him down, Ridley will fight alongside them, ignoring that character and attacking their opponents. If Ridley takes enough damage, he'll be defeated, earning a point for whoever dealt the final blow in timed matches. Ridley can even be knocked out by his own ally, if being a tratourous swine is your bag. FG II-Graham Units appear as flying turrets, which will damage fighters. Joulions will appear and explode, and Zeroes can be picked up and thrown. Grahams and Joulions can be defeated with a bit of damage.
Norfair – Metroid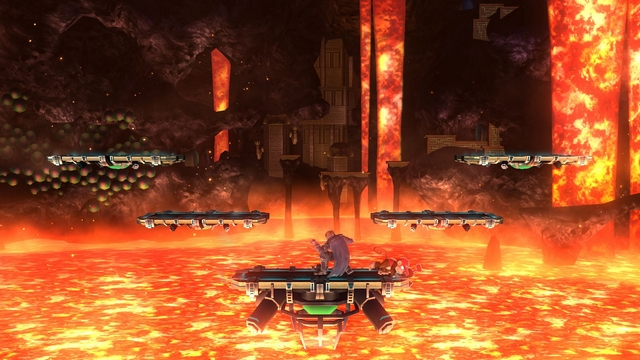 Another
Metroid
stage (this one returning from
Brawl
, another sea of magma that rises and falls. You can't fall out of this stage unless the magma is as low as it can go, but you will take heavy damage and bounce out of it otherwise. The magma can rise up high enough to completely submerge the bottom three platforms, leaving only the top two. Watch out for random jets of magma that will shoot from the background to the playfield. They sting. When a safety capsule appears, attack the hatch and get inside, because it means a giant wave of magma is about to sweep the stage. Obviously, it's in your best interests to make sure your opponents aren't in there with you. An item will always spawn inside of this capsule if items are enabled. If you don't make it inside, don't lose hope. You can dodge the lava, or shield against it if your shield is strong enough. Flying characters like Kirby can simply float above it. Watch out for the huge walls of lava that can approach from the left or right. They'll engulf half of the stage and damage anyone who can't get out of the way. Try to hit your foes into it.
Port Town Aero Dive – F-Zero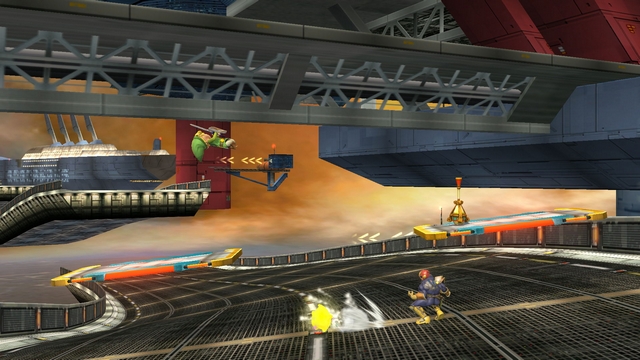 Another stage that's a tour along a race track. This
Brawl
stage can't wait to kill you with its hazards. Touching the track while in motion or getting hit by one of the racing machines can do huge damage or knock you out easily. There's no shortage of spots to fall in the stationary areas, either. The finish line is especially hazardous, as there's no safe spot away from the machines that will come barrelling towards you from the background. You'll just have to pay attention and dodge them. As with other, similar tour stages, make sure you're somewhat near the centre when you see the upward-pointing arrows, because a platform is about to rise out of the ground and carry you away. Losers get left behind.
Woolly World – Yoshi's Woolly World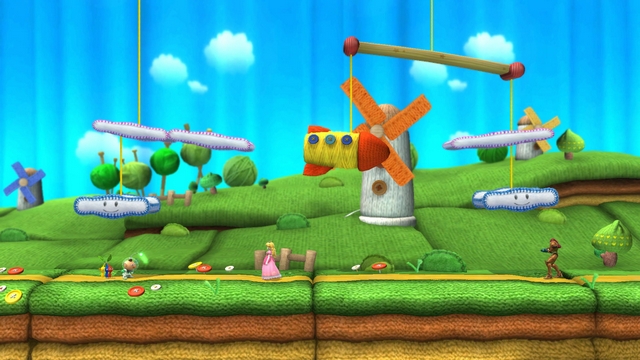 Hey, look at that, a stage from a game that isn't even out yet. This stage starts simply enough, with some clouds and a rocket suspended over solid ground by yarn. These platforms will tilt with the weight of characters who stand on them. After a while, you'll see red warning arrows. Get off the ground at this point, because it's about to disappear. The next phase is similar to the first phase, just with a different appearance. It won't be long before the ground falls away again, before eventually returning to the first phase. The background may change, but functionally, this stage just switches back and forth between having solid ground beneath it and not having solid ground beneath it.
Yoshi's Island – Super Mario World
This stage returns from
Melee
. It's bowl shaped, with a pit on one side and a pipe that leads all the way to the edge on the other side. The two platforms made of yellow blocks can be hit to temporarily start them spinning, making them impossible to stand on. The same holds true for the barrier of yellow blocks in the centre of the stage over the hole. Those are the extent of this stage's quirks.
Great Cave Offensive – Kirby Super Star
Ok, wow. This stage is
colossal
. It's so large, in fact, that there's a whole new way to get KO'd here. There are red "danger zones" all over this massive stage. Anything glowing and red, including the lava at the bottom of the stage, has the same properties. Touching one will damage you, and touching one with more than 100% damage will KO you. Spikes are not danger zones, so they won't kill you, but they can hurt you. This stage was definitely designed specifically for eight-player matches, because two players can simply chase each other around in this place for ages. Other elements include cannons, which will launch you in whatever direction they're pointing when you press the attack button, and treasure chests, which will release items if you hit them. Mine carts can spawn, which you can ride to quickly move to another area of the stage. Don't let them carry you off the stage entirely, though.
Halberd – Kirby Super Star
This stage begins in the hangar holding Meta Knight's airship, the Halberd, but it's not long before you're flying through the air, approaching it. You'll eventually land on the deck of the ship itself. You'll have to deal with the ship's Combo Cannon while you're here. The arm will occasionally jab into the foreground to damage you, while the laser cannon will lock onto fighters and try to shoot them. Try to avoid its crosshairs. When the main part of the cannon fires spinning cannon balls, stay away from them. They'll explode when they reach the ground. After a while, you'll launch into the air again for a while before swooping back down to the deck to repeat the phase with the Combo Cannon.
Orbital Gate Assault – Star Fox Assault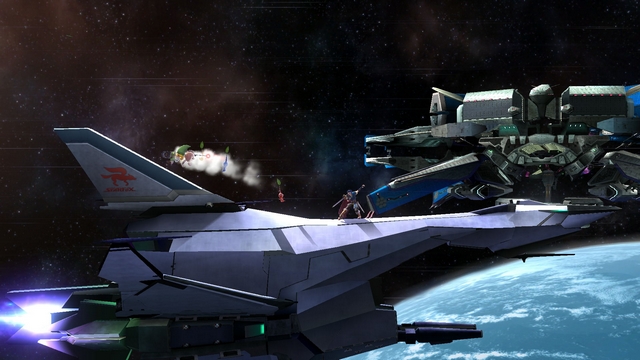 As is usually the case for
Star Fox
stages, this stage starts on top of Great Fox. Soon, you'll fall onto an enemy ship with Arwings flying about. The back end of this ship is actually several different layers that you can stand on. Watch our for fire from the Arwings. Eventually, the ship will try to break through a huge ship's defensive shield by crashing into it. Stay away from the point of impact. The ship will explode and you'll find yourself on top of three more Arwings, facing towards the background. They'll move around each other a bit before doing a barrel roll, and you'll end up on another enemy ship, facing the other direction. This one, too, will destroy itself, landing you on more Arwings, these ones flying horizontally instead of into the distance. Soon, you'll land back where you started, atop Great Fox. Exciting! If all human players hold ZL while selecting this stage, the first lap will be accompanied by commentary from the Star Fox team. This only works if neither Fox nor Falco are in play.
Lylat Cruise – Star Fox
This stage takes place atop a ship called the Pleiades, and definitely isn't Great Fox, despite what you may have heard. The stage consists of the main body of the ship, which is one large platform, and three sections of the upper "fin" or whatever you want to call it. The stage can tilt left and right while it moves. That's... pretty much it. The stage flies through space, eventually entering Corneria's atmosphere, then entering light speed and appearing back in outer space. An epic battle rages on around you, but none of it has any effect on you.
Kalos Pokemon League – Pokemon X and Pokemon Y
This stage is based on the area where you fight the Elite Four in
Pokemon X
and
Y
. It starts in a standard area with one large, round platform in the centre and two small, floating ones on the sides. Soon, you'll move to one of the four chambers of the four Elite Four members, each with its own layout and hazards. The stage will transform back into the default version before moving on to another chamber. Whenever the stage is about to change shape, the platforms will rise into the air and KO anyone who doesn't move out of the way in time. This goes for any form of the stage. In the Blazing Chamber, the two platforms will move closer to the centre and will be lifted on pillars of flame. The platforms are still save to stand on, but the flames will damage you if you touch them. If Ho-Oh shows up, watch out. He'll cause the pillars to rise higher (making them impossible for some characters to jump over) and more jets of flame to shoot out of the pits on the sides of the main platform. The Floodworks chamber covers the holes on the sides with an aqueduct that will cause water to come rushing through the stage, potentially washing you away if you don't avoid it. If Manaphy appears in the background, be extra careful, because it will flood the main platform and put a hole in the middle, which will can drag fighters down. The Dragonmark Chamber features a giant dragon statue that will cause fire to erupt from the floor. Keep an eye on where it's pointing to tell where the fire will come out. The fire rises high enough to engulf the small platforms. If you see lightning appear in the air, it means Rayquaza is about to fly across the screen along the path where it appeared. Don't let him touch you, as he'll damage you. Raquaza will appear if no other Pokemon show up in the background, so if other Pokemon are there, you're safe. Finally, the Ironworks Chamber replaces the platforms with swords that are stuck in the floor at different depths. Touching the edges will damage you. You can attack the hilts to cause them to lower into the floor more. The pool of metal that occasionally appears in the middle of the stage can turn characters into their metal forms for a while. If Registeel shows up, he'll cause the swords to shoot out of the ground, spin, and drive back down, damaging fighters.
Onett – Earthbound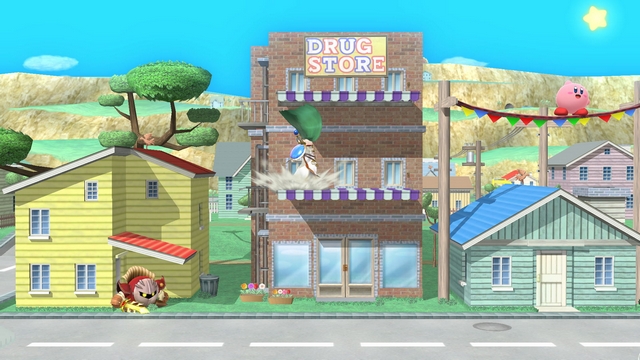 This
Melee
stage is back once again. It features three buildings, two of which have roofs you can stand on and are directly on the playfield so you can't walk through them. The central Drug Store building has two awnings and a sign, all of which will collapse after the top awning has been jumped on seven times. The awnings and sign will respawn after a short while. Cars will occasionally appear along the bottom of the stage, damaging players (despite not being on the same plane) and launching them with different properties. The taxi cab and blue car knock you forward, the pink car knocks you backwards, and the Runaway Five's tour bus knocks you straight up, or down if you're not already on the ground. You'll know a car is coming when you see an exclamation point on the side of the stage.
Coliseum – Fire Emblem
Based on the Arenas from the Fire Emblem series, this stage is huge and, by default, flat. There's nowhere to fall, but, of course, you can be knocked off to the side or the top of the area. Panels in the floor will rise out in various formations and at various heights before lowering back into the floor. That's actually all there is to this stage. There are no hazards and the platforms don't do anything interesting beyond rearranging themselves. This is a good stage for people who don't like their stages to be too dynamic but do want
some
change now and then.
Castle Siege – Fire Emblem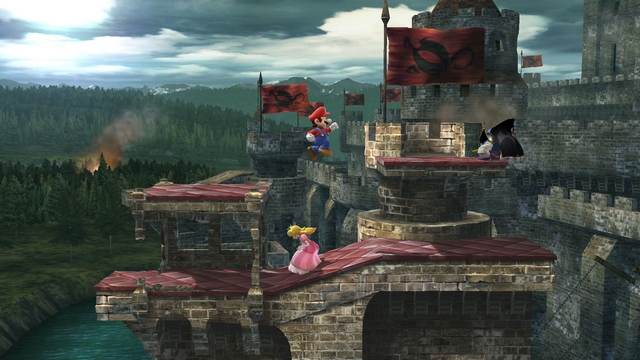 A stage from
Brawl
with several phases that cycle through in order. The first area is the top of a castle with two small platforms over a large main one with a slant in the middle. Soon you'll drop into a throne room featuring two statues holding platforms. The statues can be destroyed to drop the platforms. There are also two banners above that can be used as platforms. There's no pit to fall into here. After that, you'll fall farther into an underground area with a large stone platform perched precariously over a pit. The platform will tilt left and right. Magma can be seen in the pit, but it's just part of the background and you won't bounce off of it if you fall. Finally, you'll "fall" again and end up back on top of the castle. I guess it's just castles all the way down.
Palutena's Temple – Kid Icarus: Uprising
Use Pit's down taunt on this stage for some amusing conversations with Palutena and Viridi about the other fighters. This stage is massive, but relatively open as far as huge maze stages go. There's a moving platform on the upper right with spikes on the underside that will damage you, as will the spiked ball in the lower left. The spikes on the left side of the right island will also damage you. The most dangerous spikes are the stalactites below the left island. Those will meteor spike you to your doom, even at low damage. These are probably there to discourage you from hopping off one side of the island and coming up on the other side. Land on one of the springs in the lower left area will allow you to jump higher than usual, which will help heavier characters get around. The small floating arena in the upper left will come and go as it pleases, slowly drifting into the sky, taking whoever happens to be standing on it with it. The bridge connecting the islands can be broken. A few of the platforms are moving, and the slow-drifting cloud is solid enough to stand on. The platforms in the lower right area are tiny and will require some finesse to effectively battle on. Really, the stage's size is its most noteworthy feature. Everything else is simple enough to deal with as you encounter it.
Skyworld – Kid Icarus
This
Brawl
is like Battlefield with a twist. All of the platforms are solid until they're damaged enough, at which point the stone parts break off, leaving only clouds that you can stand on but still pass through. This makes it very easy to bounce opponents off of the underside of the higher platforms. In fact, if one of the lower platforms is broken, you can send an enemy straight up and bounce them off one of the upper platforms, which will send them flying back down right through the soft cloudy floor for a KO. The stone parts will regenerate after a time. There's also a small floating platform beneath the main one that can help with recovery in certain instances.
Gamer – Game & Wario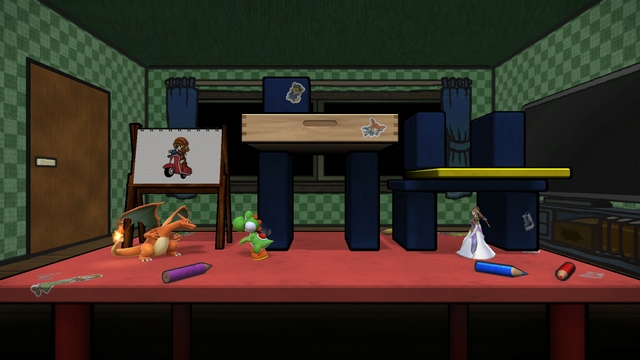 What a weird stage. Based on a minigame from
Game & Wario
that starred 9-Volt, you'll have to fight without getting spotted by his mother, 5-Volt. She is terrifying. She'll appear at the door or window, or even from horror movie spots like the TV or art canvas. Make sure you're hiding behind a table leg or something when her scary monster eyes start to glow, because she'll completely lose her mind and damage and launch you if she spots you. The dangerous areas will be illuminated while her gaze starts zeroing in. Anywhere with a shadow is safe. The stage layout is somewhat random, with different elements appearing in difference places each time you play, so these safe zones are also random. Listen for her footsteps, because that probably means she's about to pop in through the door, even if you think you see her somewhere else, like through the window. You won't take damage if you're in an invincible state, like during a Final Smash.
Garden of Hope – Pikmin 3
This stage features a few destructible elements, including the bridge, the cracked cup, and the stick. They won't stay destroyed for long before the Pikmin from the background step in to rebuild them. Adorable. The cup can actually be rebuilt right around you, and you'll have to break it again to get free. The hanging platforms on the far ends are connected to one another. If you stand on one, it will sink, and the other will rise. It can sink down far enough to KO you if you're not careful. A Peckish Aristocrab will wander in from time to time and trample fighters, but it will fall down the put if the bridge is broken. It's not very smart, and will eventually fall to its doom, no matter what. This might mean landing on one of the suspended platforms, which means causing it to fall down, which means raising the opposite one, which means death to anyone standing on the raised platform.
Town and City – Animal Crossing: City Folk
The time of day in this stage depends on the clock in your Wii U. Food will float by on balloons, which can be popped. This stage starts floating high above an
Animal Crossing
town, but eventually floats North, over the nearby city. When over the town, there are three platforms floating over the main one, but in the city, there are two, which move towards and away from each other. Play on this stage between 8:00 at night on a Saturday night for a cameo from K.K. Slider.
Wii Fit Studio – Wii Fit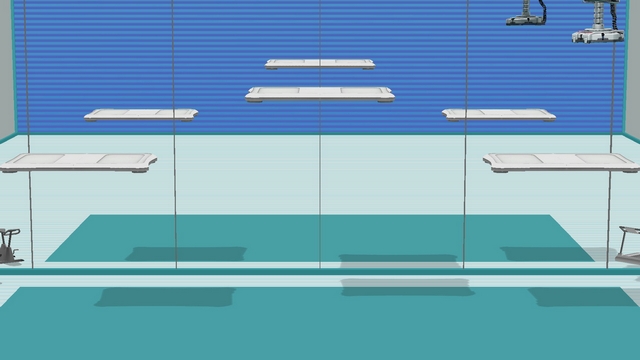 A large stage that stretches all the way to the edges. The giant mirror on the back wall can actually be used to see what's going on off-screen. The platforms made of balance boards, which is a nice aesthetic touch. There are three at first, though sometimes they disappear so the silhouette of a Wii Fit Trainer can appear in the background to show off some yoga poses. When this happens, the platforms may come back slightly differently, in that they might be higher or lower, or some might be missing. This stage is pretty simple and there's nothing you really have to watch out for.
Boxing Ring – Punch-Out!!
There are two versions of this stage. One with a World Circuit logo and one with a
Smash
logo. They're exactly the same except for the appearance of the ring, though. There are lights at the top of the stage that will come crashing down if they're attacked enough. The border of the ring will send you flying into the air if you jump on it, meaning even characters like Ganondorf can reach the lights. There's nowhere to fall so you'll have to knock people out to the sides or top. The monitor in the background keeps track of fight stats, such as total damage and KO's scored since the start of the match.
Gaur Plain – Xenoblade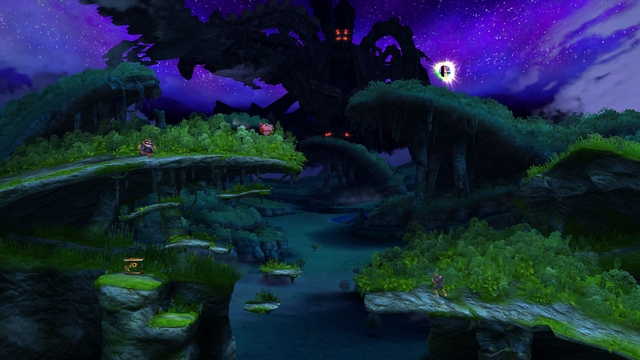 At first glance, this stage looks similar to its 3DS counterpart, but it's actually much bigger and has a couple of unique elements. Characters who aren't good in the air might have a tough time here, as very little of the total platform area here is "solid" (impossible to pass through) and most of the platforms are tiny. The two large platforms on the top reach the edge of the playfield, but much of the fighting will take place on the smaller ones below, which are suspended over a large pit. The two mechanical-looking devices are springs which can help you quickly reach the top again. When the in-game day turns to night, Metal Face will swoop in and land somewhere, attacking everyone who gets too close with hits claws. He might also temporarily destroy some of the platforms with a laser blast. You can KO him by dealing enough damage to him, but he takes a lot of punishment. If you manage to destroy him, he won't appear the following night. He'll fly away on his own when morning comes.
75 m – Donkey Kong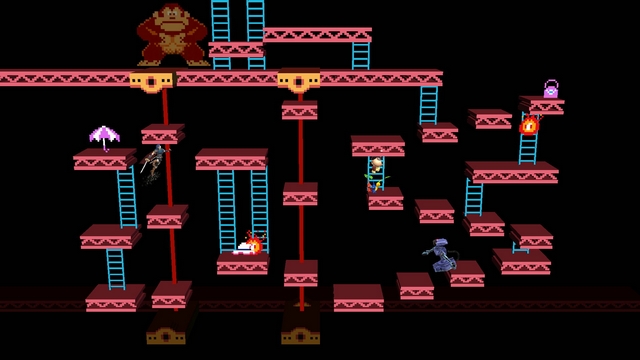 The
Brawl
stage is the entirety of the third stage of
Donkey Kong
, or the second stage if you played the NES version with the missing 50 m. The moving platforms still carry you up or down, the fire enemies can still damage you, Donkey Kong still throws springs that will hurt you, you can climb the ladders, and you can even collect the collectibles for no reason. Donkey Kong is harmless when he's standing in the background, but when his sprite gets brighter and he starts moving, it means he's in the foreground. This means he will damage you if you touch him, and he'll make springs appear from the left side of the stage, which will bounce along the top and drop down on the right side. You can pass through every platform in this stage, making it much easier to traverse than in the original arcade game.
Wrecking Crew – Wrecking Crew
Based on that one NES game that nobody ever talks about despite being pretty good, this stage is appropriately destructible. Bombs will appear on the tiny raised platforms, and they'll explode if you damage them, setting off a chain reaction that will destroy the stone walls nearby. The black walls can take a moment to collapse. Once all of the walls on a floor are destroyed, the above floors will all drop down one level. None of this, including the explosion from the bombs, will damage you, but the explosion and resulting chain reaction can damage your foes. If a bomb is set off by a collapsing floor and not by a fighter, it will damage anyone nearby. If a steel drum lands on you when the above floor collapses, you'll be trapped inside for a little while. You're vulnerable to enemy attacks while you're trapped. Press the buttons and move the control stick to escape. The incredibly fragile ladders can be climbed.
Pilotwings – Pilotwings
Fight on top of a biplane as it soars over the
Pilotwings
airstrip and Wuhu Island from
Pilotwings Resort
. The biplane, of course, has two layers of wings you can fight on, but you'll eventually switch to a yellow plane that only has one. Both planes can tilt left and right as they fly through the air. There are some pretty things to see as you soar, but functionally, not much happens on this stage. You can bounce off the scenery if you get too close to it, but it passes so fast that that's not very likely to happen.
Wuhu Island – Wii Sports Resort
A tour stage of Wuhu Island, an island that appears in several otherwise-unrelated Nintendo games. You'll fly through the air on a flying platform, occasionally landing on the island to battle for a while, before taking off again. The flying platform changes a bit each time you ride it, curving slightly differently and having differently positioned smaller platforms above it. Possible locations include a rickety bridge, the top of a volcano, a simple cliff, and more. In the area with the water fountain, you can use the jet of water to jump higher and descend slower than normal. You can swim in the area with the speedboat, but don't get left behind. There's not really anything in particular you need to watch out for.
Windy Hill Zone – Sonic Lost World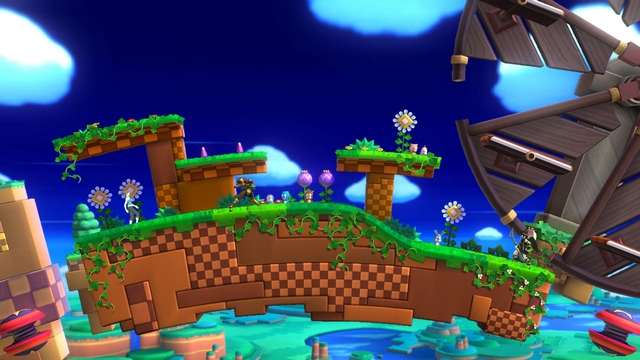 This stage is curved and has gravity similar to that of the Mario Galaxy stage, in that "down" slightly to the centre of the stage. There are a few small platforms scattered above it. The windmill on the right side has platforms on it, but as the windmill itself is only partially in the stage, riding them too far can be disastrous. There are bouncy springs suspended in the air to the lower left and right of the stage. They can save your life or send you rocketing into the pit, depending on if you touch them from above or below. They occasionally slowly spin around for a moment before disappearing.
Wily Castle – Mega Man
This stage starts off simply enough, with just a flat and a couple of small platforms. Soon, they'll start to move, and more moving platforms will appear off to the sides. The Yellow Devil is what you really need to watch out for. This cyclops will fire energy blasts at you before breaking apart and rushing to the other edge of the stage to do it again. He won't hurt you if you stand behind him, but there's not much room to move back there. He'll leave on his own, eventually, but if you destroy him by attacking his eye, he'll explode. The explosion won't harm the character who defeated it, but it will damage anyone else.
NEXT: Hidden Stages