Now you're ready to start actually climbing the tower. The stage isn't actually that long, but there's an extended battle waiting for you at the end.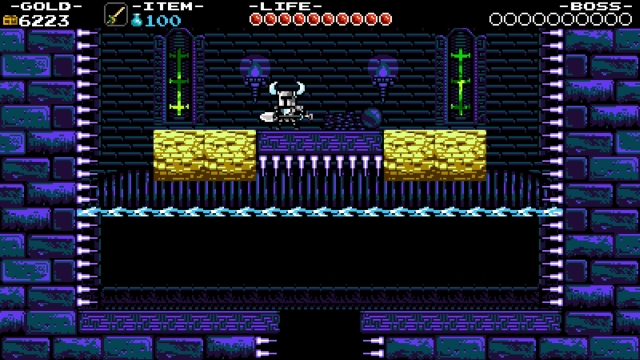 You'll start the level on a ledge above a pool of water. Spikes line either side of the chamber, and a vertical shaft you can drop through along the bottom of the room. Destroy some sand blocks and drop down into the pool, then descend through that shaft.
Eels greet you in the chamber below. Here, you can either jump left or right past some spikes. To the right, an opening marks the obvious path. Jump left instead, while keeping in mind that the moss-lined platforms will launch toward the ceiling shortly after you put weight on them. Remember also that your jumps carry you further underwater, so don't hit the spikes overhead. Landon the platform over the left shaft, then jump back right and let the moss-covered ledge you just landed on fly to the ceiling (without you still on it). Then dig through the sand it was blocking.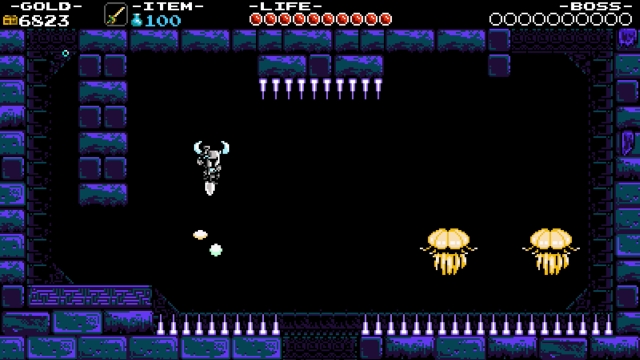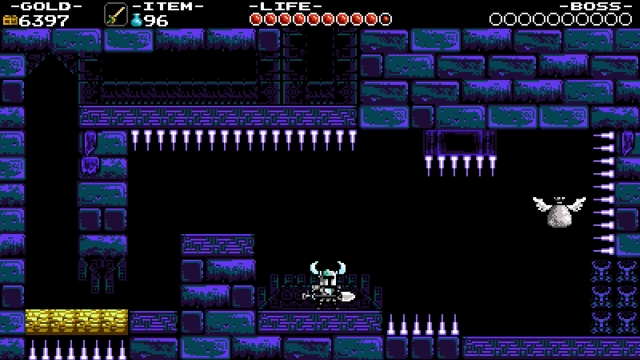 In the lower room, you can bounce from the back of a floating sea animal to get in position to fall through yet another shaft.
That shaft leads to a room with more sand blocks along a shaft. You need to head left and dig through two large blocks of sand, then slash out to the side with your sword so you don't keep digging your way into a bed of spikes. Head right and destroy a block of sand, then continue right. It's not a bad idea here to start to hop, then use your Propeller Dagger ability to fly right over the spike bed along the floor. Then break apart the low wall to the right and continue in that direction.
The next room contains a checkpoint.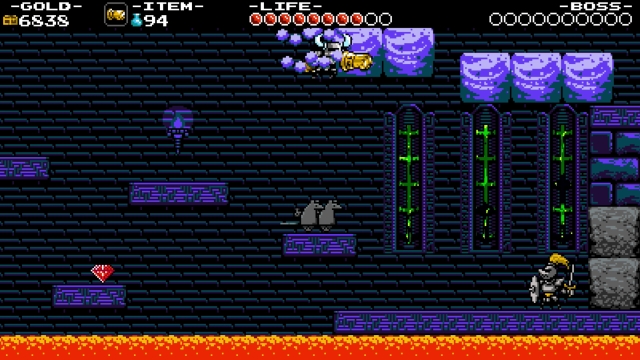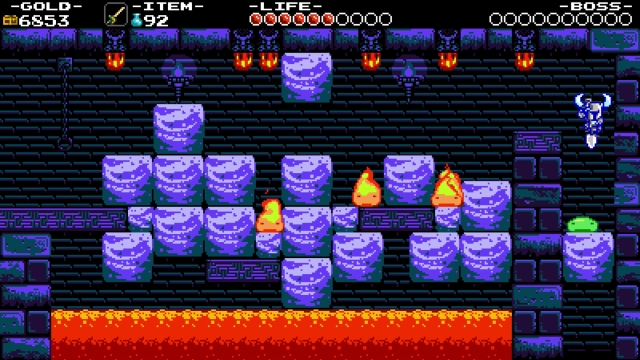 Jump right out of the pool of water, then jump to the ledge where rats are patrolling. Past them, you can jump along some elevator ledges and work toward the upper right ledge toward the right. Watch out for the archer that materializes here. Switch to your Dust Knuckles as you advance right. You can jump and charge through a series of blocks hanging along the ceiling to take the easy way across the chamber, foregoing a battle with a knight. Then jump right and continue through the opening.
In the next room, you will find slime that turn fiery when lava droplets hit them from above. Again, you can use your Dust Knuckles to cross this room more easily than you otherwise might. Then dig your way down a vertical shaft along the right side and drop into the space below, where you should hold left and tag another checkpoint that is waiting. Then drop into the next room.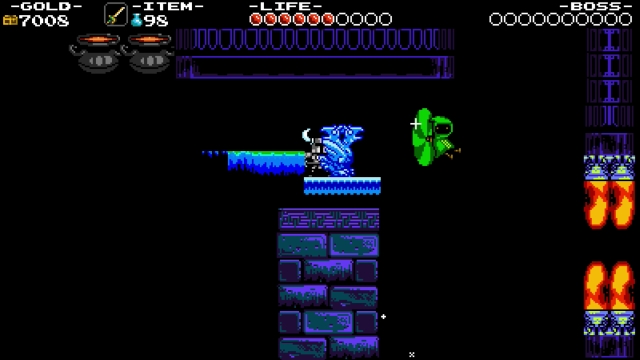 You'll be glad you just passed a checkpoint when you try to work through this next room. It requires you to manipulate one of the floating statue platforms. Remember that you can jump repeatedly to allow it to gain elevation, or stand on it to cause it to slowly sink through the air. Striking it from the left will cause it to jet to the right, producing a ledge you can run along. Don't let it get away from you as you advance.
I find that it works best to let the platform itself act as my weapon. If you slash it and send it flying forward, it will take care of any enemy directly ahead of it. I also like to launch it against a wall above a gap I need to travel through, so that it stops short rather than continuing forward and leaving me behind it. If you are controlling it well, you can cross to the far right side of the area and raise the ledge high enough that you can travel right and hack the wall above the gap to reveal a
Music Sheet
. Then go ahead and drop down and pass through the opening to tag another checkpoint.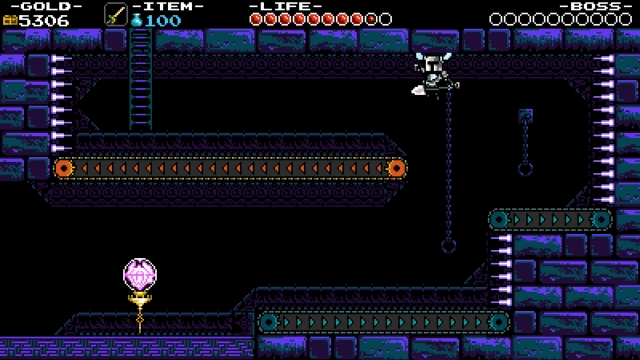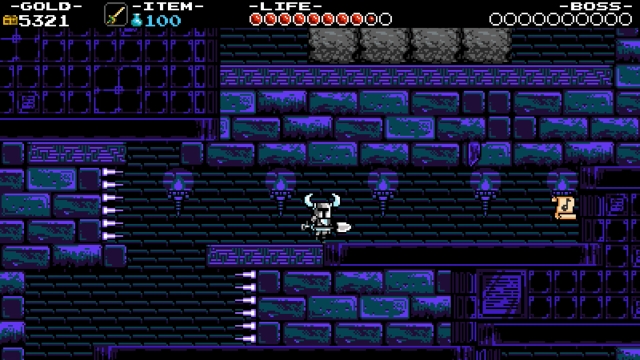 You're now in a room with conveyor belts. Leap onto the first one, then hop to the one to the upper right, and from there hop left and ride the belt left toward a ladder. Jump and climb that ladder into the overhead chamber.
This room rises as you try to ascend through it. Large chunks of the architecture move left and right, around dangerous ledges. You need to try to ascend as quickly as the scrolling will allow you, sometimes making long leaps sooner than you necessarily have to just so you can stay ahead of the scroll. You'll be rewarded along the way with a
Music Sheet
in a low passage to the right, if you manage to ascend quickly enough.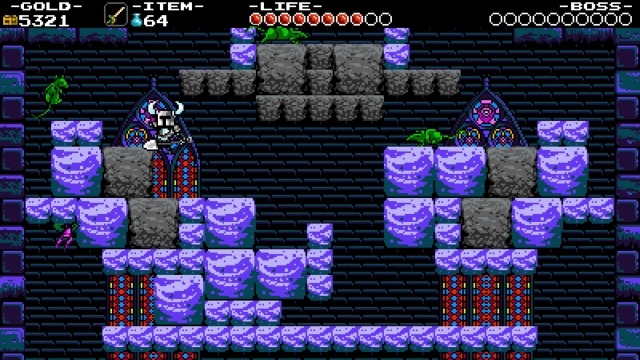 Continue gaining elevation, and soon you'll come to a series of destructible blocks. You need to hack these as you climb, so you may want to bring out the Dust Buster or Propeller Dagger ability to allow you to chop through everything faster. Don't destroy something that you need for solid footing, though.
As you continue your climb, you'll also find the green rats. Remember that they explode when struck, perhaps taking away blocks you can use to climb, so be careful about getting too aggressive. When you reach the top, you can climb a ladder positioned near the center of the chamber. Hack the wall to the left if you want a turkey, then head right through another shaft (ignore the dinner trays, which only contain bombs) to reach a room with a checkpoint. Then drop through an opening to face the stage's boss.
---
Battle Royale
When you arrive in this chamber, you'll find King Knight, Mole Knight, Polar Knight, Spector Knight, Plague Knight, Tinker Knight, Treasure Knight and Propeller Knight having dinner.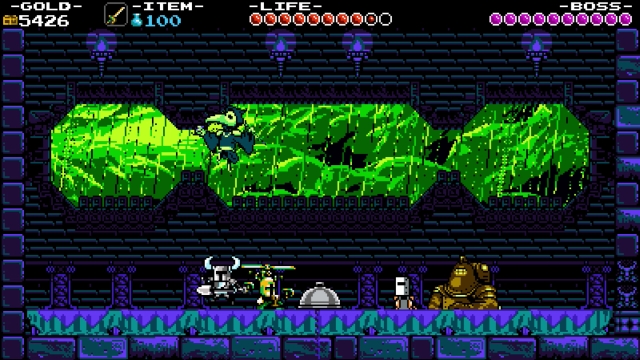 Naturally, they're not pleased with you for crashing their party. They attack you in the order indicated above, one at a time. You have to deal with each of them in a row, reliving the familiar battles one after another.
Between each round, a turkey appears in a dish. You can break it open immediately if you need it, or save it for an emergency if your health is mostly fine. This makes it easy to survive the entire gauntlet, particularly if you're fighting effectively.
---
When you defeat the last of your foes, they'll all be hanging from the ledge. You can dig with your shovel to hoist each of them up to solid ground. Then you can exit to the right to complete the stage.
NEXT: Tower of Fate: ????