Start toward the right and you'll see a man who comments that if he could phase away, he could gather a lot of treasure. Since you purchased the Phase Locket, though, you can simply equip that and do what the wishful fellow can't.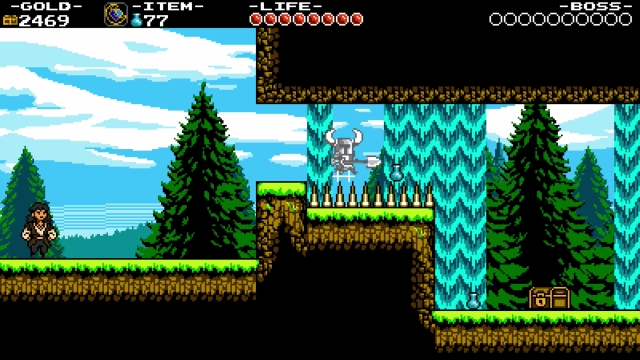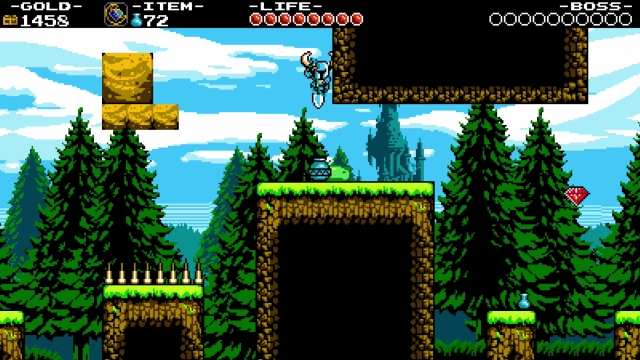 Hop onto the ledge to the right and use your ability. Quickly run across the spikes, then drop down to a chest. Open it for some treasure, then continue to the right.
In the next screen, you'll have a more difficult challenge. You can head right and break apart some low sand blocks on your level. Then phase and
quickly
hop onto the spike bed to the right, and from there to the next ledge. Be ready to jump as you land, to avoid an approaching slime, or perhaps be ready to hit it with a downward strike if it has advanced too close to avoid.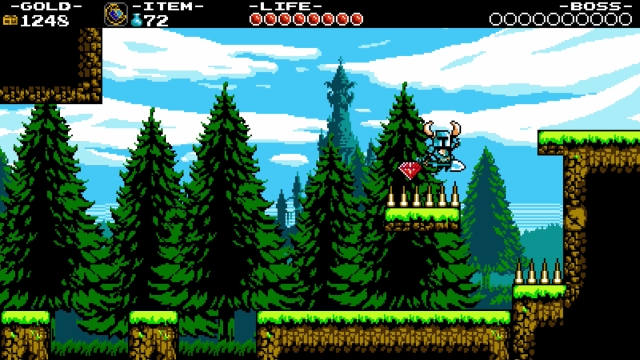 Continue right and drop down to a ledge, then wait. A series of three flying enemies will approach. If you try to slash them, you'll rebound back into the pit. Phase instead and they'll pass through you. Then quickly hop over two more ledges and phase in time to avoid being knocked back by a second group of the winged creatures.
Keep advancing right now and use your phase ability to leap up along two beds of spikes and to a safe ledge to the upper right. Advance into the next screen.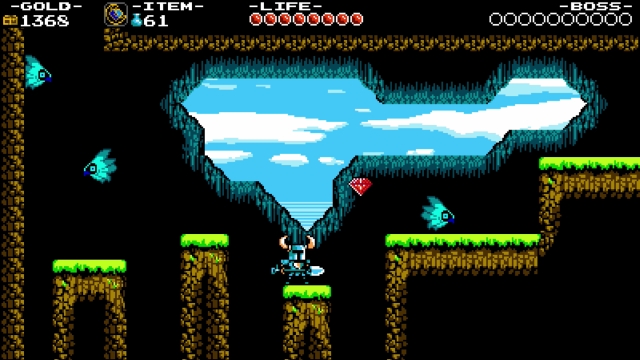 There is a lot of treasure here if you're ready to hurry, on the bed of spikes to the right. You can try for it, or drop down to the lower level where a lance knight waits. Defeat him and grab the treasure he is guarding on that lower level, then drop through the pit to the left.
You'll arrive in a room with a bunch of narrow ledges. There are flying blue birds' heads here. They take several hits to defeat and they're good at knocking you around. Quickly hop along the series of ledges, stopping on each one to phase if necessary. When you get to the far side, advance through the opening.
In this screen, you can see a slime hopping along a bed of spikes to the right. Grab some magic meter refills, then stand near the edge. Use your phase ability and then jump quickly right toward the wall. Slash the area marked as its weak point and fall right so that you land past the spikes. Then head through that open space and drop down to the treasure chest. Open it for a
Music Sheet
.
Now run to the right, past the sign pointing in that direction, and you'll exit the stage and return to the world map.
NEXT: Knuckler's Quarry