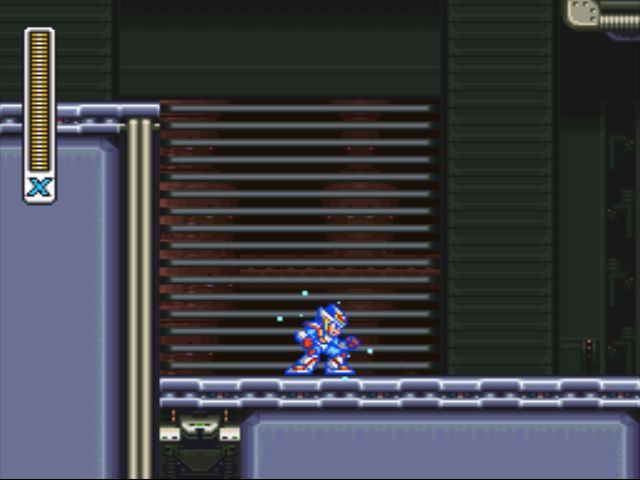 If you haven't collected all of the upgrades and such before now, do it before attempting this stage. You should also have all of Zero's parts. You'll need all of these for a secret upgrade.

Head right and deal with some Disk Boys, bats, and Pararoids. You can try to get the health and 1up you see if you want to waste your time. You'll need a perfectly timed Strike Chain during a jump to sneak in and grab them one at a time. Not worth the headache. Keep going right and then up the ladder.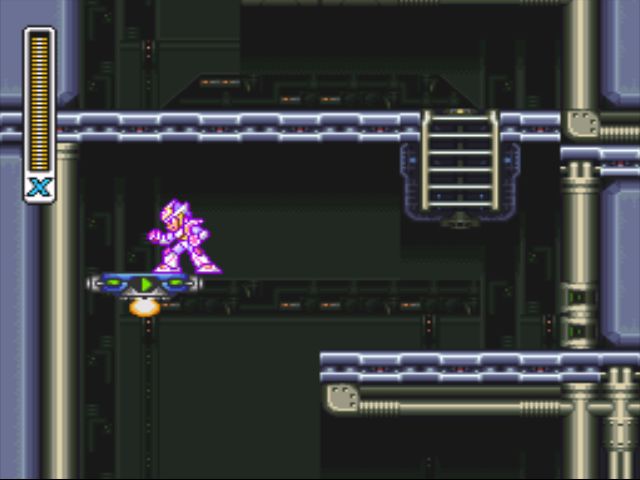 These platforms move in four different directions. They change direction when you jump on them, cycling through right, down, left, and up, and back to right again, in that order. You'll have to navigate these to make your way up. This first one is for practice. Use it to reach the ladder and continue up. Take out the tank and feel free to air dash across this small spiked pit to collect the life energy on the other side. Head up the next ladder.

Jump on this next platform, then jump on it again to make it go as far up as it can go. Quickly jump on it three times in a row to go all the way left, then up a little bit, then right until it's under the gap, then three more quick jumps to make it go up through the gap. If you miss the gap and end up on the far right, it's ok. Just navigate it back and then up. It's tricky! If you lose the platform or if it gets caught under a ceiling, go all the way down (being careful not to land in the spikes) to make it respawn.)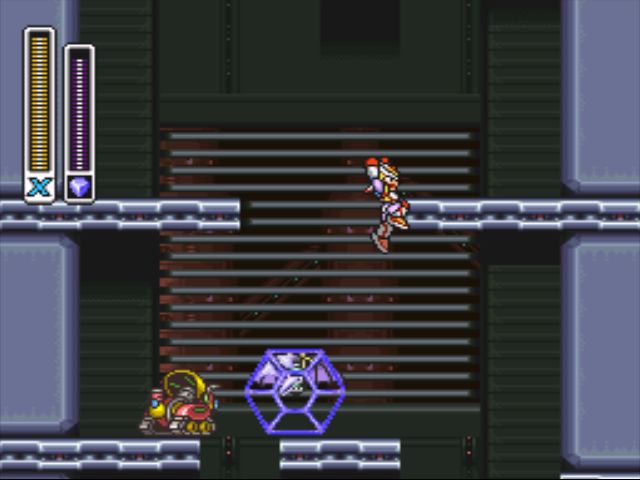 Now, you can try to navigate this platform up, or you can do it the easy way and lure this bat over to the platform and hit him with a Crystal Hunter. Then you can just climb on top of him and wall jump up. Keep going up and collect the energy if you need it, then head right.




The path branches here again. Something great is waiting for you in the upper path. To reach it, lure a bat over and freeze it with a Crystal Hunter to use it to reach the wall next to the ladder, and then the ladder.


Shoryuken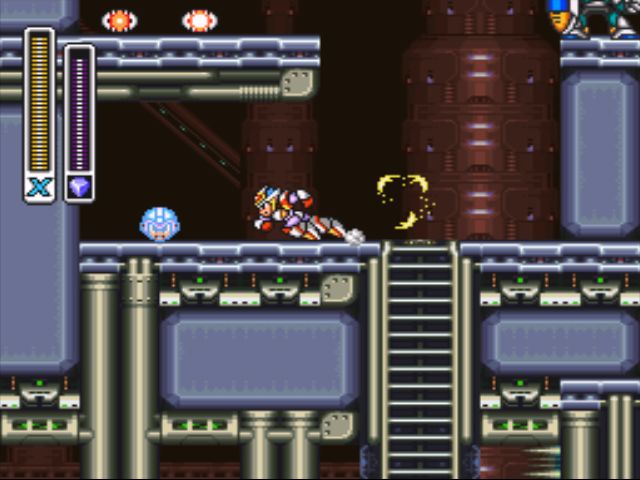 There's a 1up, some life energy, and a Disk Boy here. Take care of them all. Quickly switch to your Crystal Hunter and freeze the bat. Use it to grab one of the walls to the right, then use air dashes and wall grabs to make your way to the ground in the middle of the spikes. Alternatively, let the bat hit you and use the invincibility to quickly make it across the spikes. Take out the Garakuta Robots quickly, then hop or air dash right some more.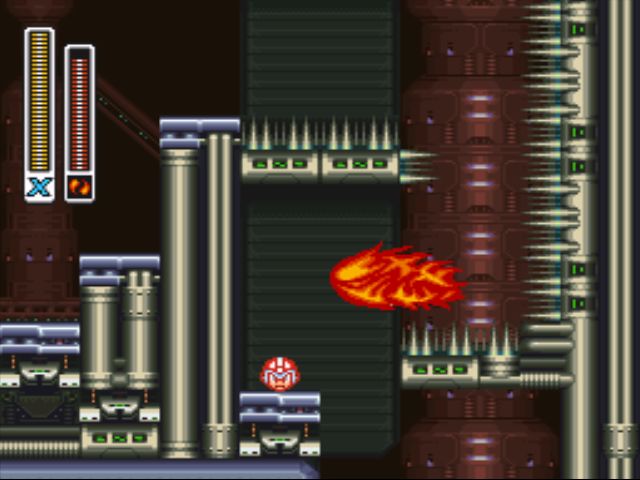 This next part is tricky. Charge up your Speed Burner. Air dash or dash jump over to the right, being very careful to slip past the spikes, then turn left and unleash your Speed Burner to dash over to the 1up. Hard part's over!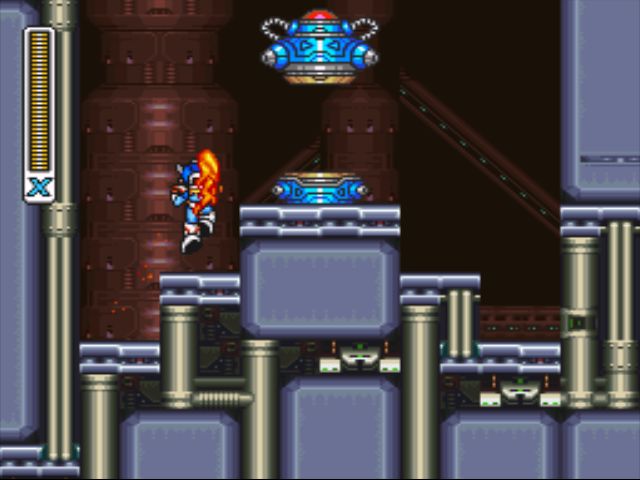 Slide down the left wall and you'll eventually reach a part where you can enter the wall. Inside, you'll find the powerful Shoryuken, if you have all of Zero's parts, the heart tanks, sub tanks, and upgrades, like you should. The Shoryuken is Ken's signature move from the
Street Fighter
series. It's performed the same way it's done in those games. While standing on the ground, hit right, down, and down/right on the dpad (or left, down, down/left if you're facing left) and press the Y button (or let go of it if you're holding a charged shot) to do a powerful uppercut. It sounds complicated, but you can take some time to practice this move now. If it helps, think of the motion as rolling your thumb right, down, and then right again, followed by the Y button. You can only perform this move with full health. It does massive damage to all enemies, including bosses. A direct hit can be enough to take out a boss with one blow. The Shoryuken can not be saved with a password. If you quit the game and resume it by using a password, you'll have to collect the Shoryuken again.
If you do decide to go down from the spot where the path branches instead of up, you'll find a much easier path. There's a Cannon Driver and some birds to deal with, followed by a Disk Boy with a 1up on some spikes under him. (Use the Strike Chain to grab it.) Another bird generator is waiting for you before the spot where the paths converge.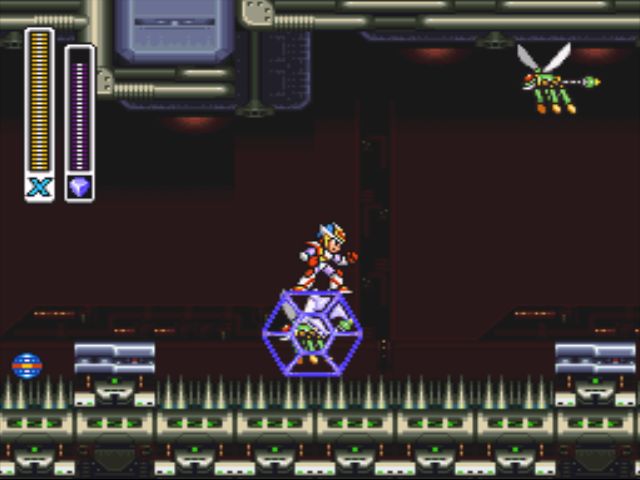 You can dash jump over these spiked pits, but you should probably use the Crystal Hunter on these Pararoids and use them instead. You'll reach the boss room soon.
Agile (Second Form)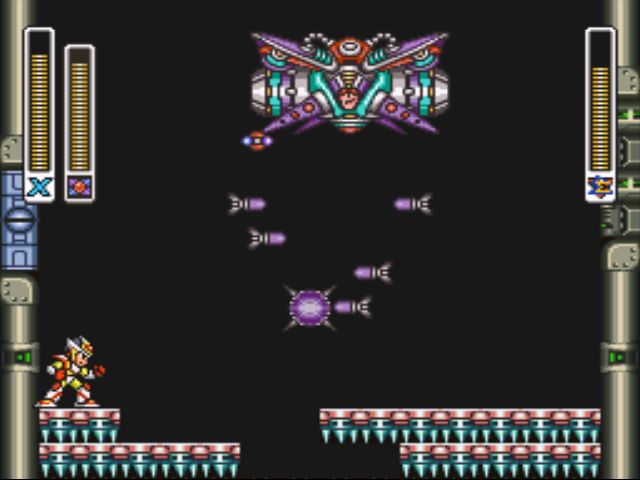 Agile has some new tricks. He'll spend the entire battle above you, so the Magnet Mine can easily hit him if you guide it with the dpad. Spiked beams will jut out from either side of him, eventually falling down on top of you. There will be a gap in the beam directly under Agile, so use that spot to dodge it. If it doesn't hit you, the beam will stay on the floor, and you'll be able to walk on it. If tiny missiles come out of the walls, they'll form a giant energy ball that you'll have to dodge or attack with a Magnet Mine to destroy, so watch out. It happens quickly. He might turn red and smash into the wall, damaging you if you're next to him, but you really shouldn't be up there at all if you're using the Magnet Mine. He'll also shoot electric orbs that will crawl along the walls and floor. Keep using the Magnet Mine to take him out.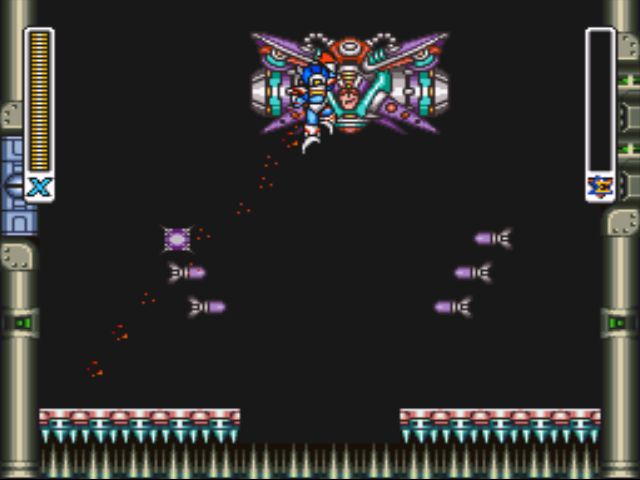 Alternatively, make sure you have full health at the beginning of this battle, and immediately unleash a Shoryuken to take him out in an instant. He's positioned perfectly for this!
What's Next?
A boss gauntlet. Make sure those sub tanks are full.
NEXT: X-Hunter Stage 4