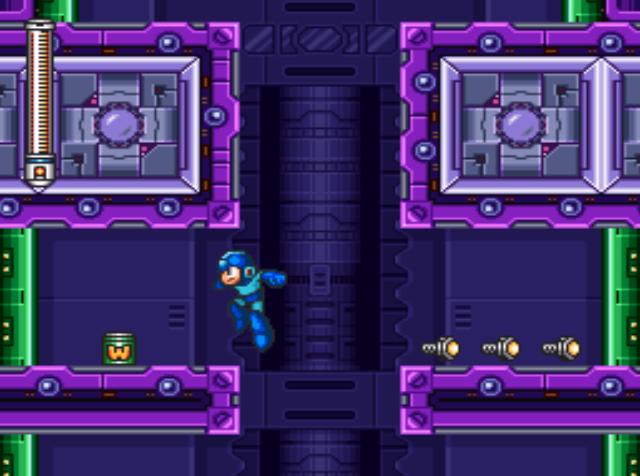 There are some handy items here on the way down. You should be able to reach them all without much trouble, especially if you use the Super Adaptor. The teleporter at the bottom will take you to the smallest surprise in history if you've ever played a Mega Man game before.




It's time for the traditional Mega Man boss gauntlet. You'll have to fight all eight Robot Masters again. They each drop a large health item when they're defeated. The platform in the centre is an elevator you can control with up and down. The Robot Masters have the exact same weaknesses they had the first time you fought them. From left to right, top to bottom, the telporters bring you to the following bosses, with the following weaknesses:


Freeze Man (Junk Shield)
Slash Man (Freeze Cracker/Scorch Wheel)
Junk Man (Thunder Bolt)
Cloud Man (Danger Wrap)
Turbo Man (Noise Crush)
Spring Man (Slash Claw)
Shade Man (Wild Coil)
Burst Man (Scorch Whee/Freeze Cracker)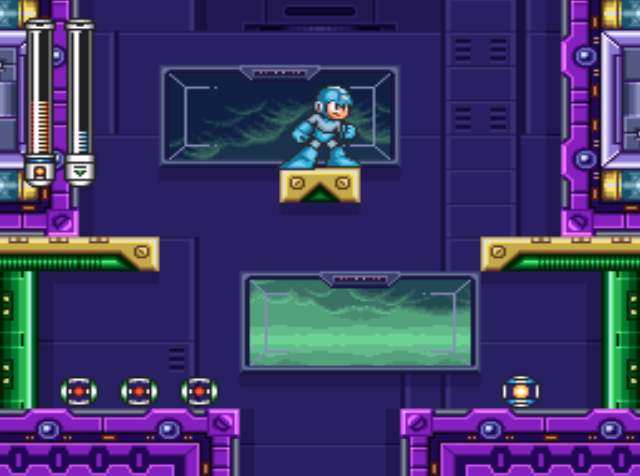 Up next are some weapon energy pickups and some health. You're going to want to refill the Thunder Bolt and Wild Coil here. If you have some W-Tanks, those might come in handy, too. Time for Wily! Head down to the left. There are two bosses coming up, and the second one is much more difficult than the first. It's the home stretch.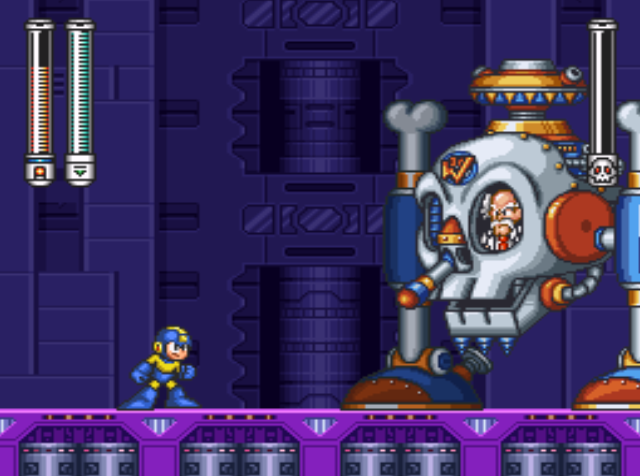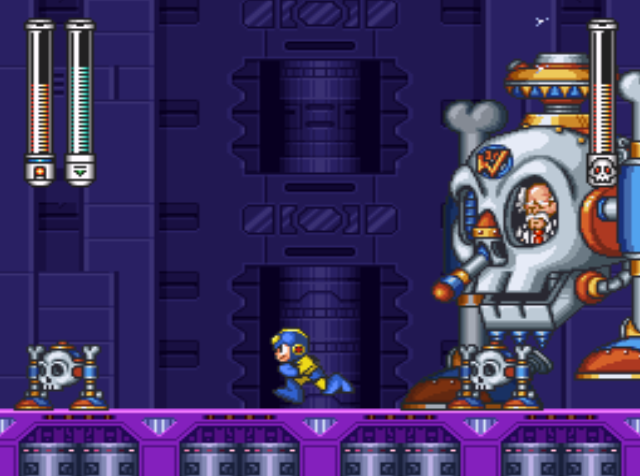 Wily Machine 7. It's weak to Thunder Bolt. One of its eyes is the cockpit, so aim for that. Its legs won't hurt you, so slide under him when he's hopping along. He mostly just hops or runs to one side, then jumps high into the air and lands on the left or right to start over. Sometimes he'll let out some tiny little Wily Machines that take a decent amount of damage before being destroyed. Focus on them when they appear, or, alternatively, avoid them while focusing on Wily himself. Use your Mega Buster on them. Don't waste your ammo. You can shoot them from the opposite side of the boss, so slide under him whenever necessary. He's not too tough. One more boss!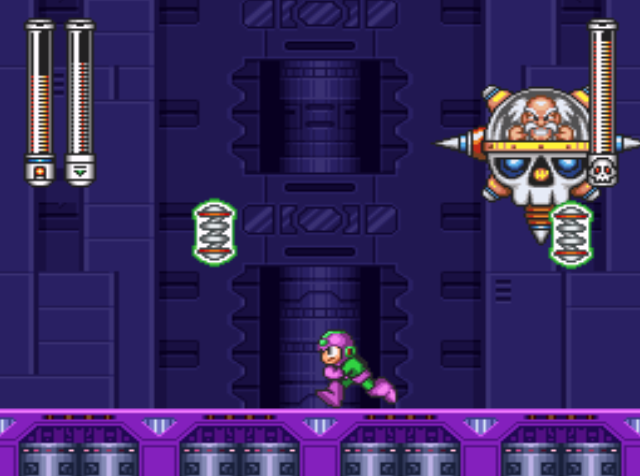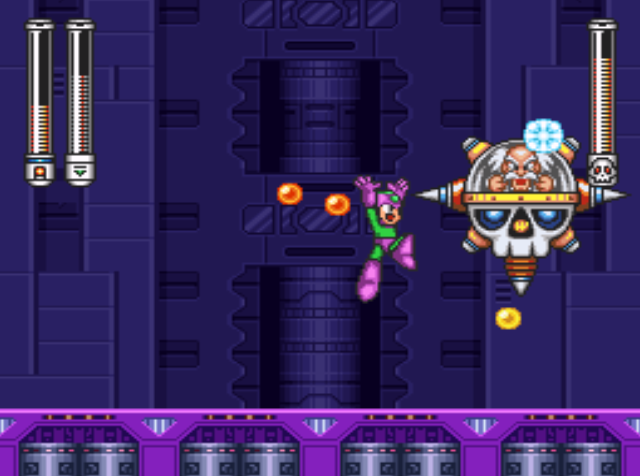 The Wily Capsule is weak to Wild Coil. As always, charging up will do more damage. Remember to hold Up to make them bounce higher. This is the final boss, so go nuts with your E, W, and S-Tanks. The Wily Capsule teleports around, shooting orbs of elemental energy. When it appears, it will fire four balls of energy that will move in a straight line, stop, change direction to come at you, stop, change directions to come at you again, until it leaves. This attack is what makes this fight so tough. Yellow balls cause damage with no special properties. Red ones engulf Mega Man in flames and stun him for a while. Blue ones freeze him in place. He'll also fire a large blast of energy that will split into four orbs that travel along the ground. This attack does heavy damage. It's easy to avoid if you're not frozen, but sometimes you will be frozen and there's not much you can do about it. He'll teleport to some other spot on the screen and repeat the pattern. The small orbs are difficult to dodge, but you should have an E-Tank or two (or three or four) ready to go. Don't hesitate to use your W-Tanks if and when you run out of energy for your Wild Coil. After you beat this boss, the game is over! Enjoy the weird ending where Mega Man tries to murder a surrendering Dr. Wily.