Get that Super Adaptor ready. Use its homing punch on the two turrets, then float up and grab the bolt. Take the upper right path and go up the ladder. The next area is full of jerks with shields, and one health pickup in an obvious spot. Take the next ladder up, and up past the next shielded enemy.




More shields. And turtles on the walls. Sensing a theme here? I hope you're making good use of your homing punch. Take out this guy, and the guy next to the 1up, and drop down and get the 1up if you want it. The ladder on the right leads to health, so take it.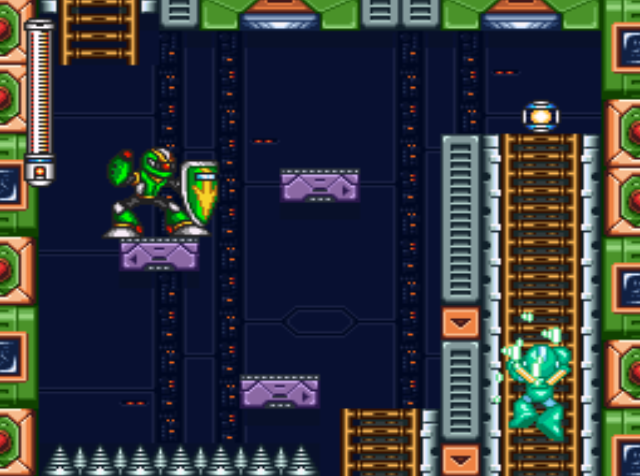 Remember that you can shoot through walls. These purple platforms have little conveyor belts on them. Watch them to see which way they'll push you if you stand on them. Head up and into the next area. It's Bass time.




Bass has a Super Adaptor of his own. He fuses with Treble. He can fly, and he has a rocket punch of his own. However, your own rocket punch does heavy damage to him, and it will seek him out, so keep charging up and unleashing punches while avoiding him. It won't track him if he moves off screen, though. Unlike Mega Man, Bass can fly freely. He can fire regular shots in bursts of three. His homing punch packs a... punch... but it's easier to avoid than Mega Man's. Keep your distance.

After he's down, continue on. You're not done yet.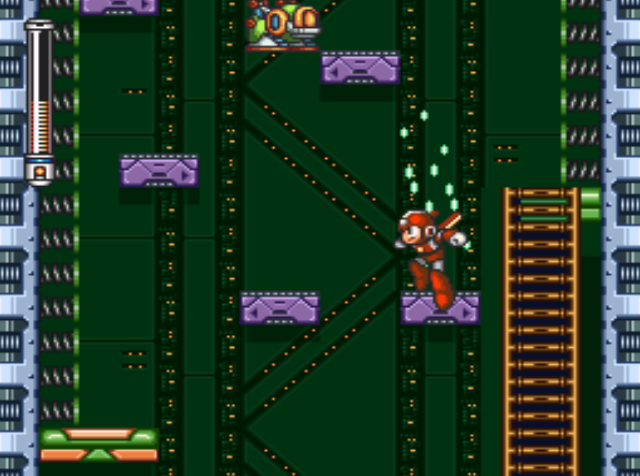 Take out the tire enemy the usual way. Climbing this ladder will cause you to bounce off the springs, so be ready. Use your Super Adaptor to navigate the conveyor belt platforms. Use your homing punch to take out the small enemies on your way up, then climb the ladder.




Quickly climb up to the health and take out the tire foe with your homing punch. Either slide through the gap or jump from the ladder to reach the next area.




These jets of fire are in an area more open than the one in Turbo Man's stage. It's pretty easy to stay out of range. Be careful on your way up. The Super Adaptor will probably be more useful than the Freeze Cracker, but you can switch to Freeze Cracker for freezing purposes if you want. The ladder to the next are is in the upper left corner, but there's a health pickup in the upper right.




Switch to Danger Wrap for this room. The bats and the little guy are vulnerable to it. Make your way to the next ladder.




You're going to want that Super Adaptor again. Use its homing attack on the two enemies, then fly to the jets when they're safe to make your way up. You can pick up the weapon energy and health if you need them. Just be careful of the jets. It's boss time.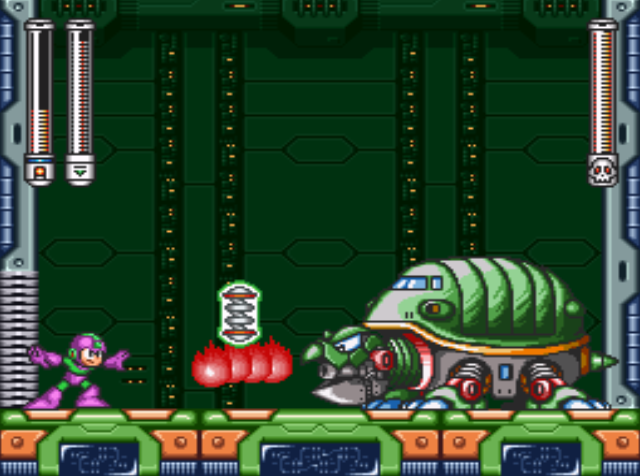 Gamerizer is weak to Wild Coil. Charged Wild Coils will do more damage. Surprising nobody, it's a turtle. Its head is its weak point, and it can only be damaged when its head is sticking out of its shell. It can breathe fire with light homing capabilities. (It will curve towards you, but only a little.) Jump over it. It does heavy damage and will stun you for a while, so don't get hit. When it charges you, it's going to bounce off the wall behind you, between one and four times. Slide under it as it comes at you and again as it returns. Be quick. When its shell flies away and leaves a tiny little shell behind, sweet little baby turtles are going to come out. Shred them with your Slash Claw before they can fly at you. They can drop health and weapon energy.
That ends the second Wily stage.
NEXT: Wily's Castle 3