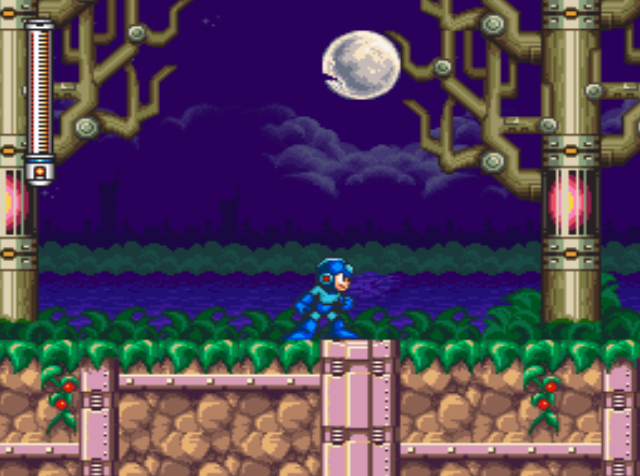 Shade Man is our final Robot Master, in the lower right corner. If you want some retro Capcom music in this stage, hold B as you select it. This only works if Shade Man is still in one piece. Start by taking out the Crowbot. It shoots one shot at you at a time, but doesn't move otherwise. Behind him, coffins will appear, and zombies will pop out. If you're quick on the slide, you can dash right through this area. Otherwise, shoot the zombies as they emerge.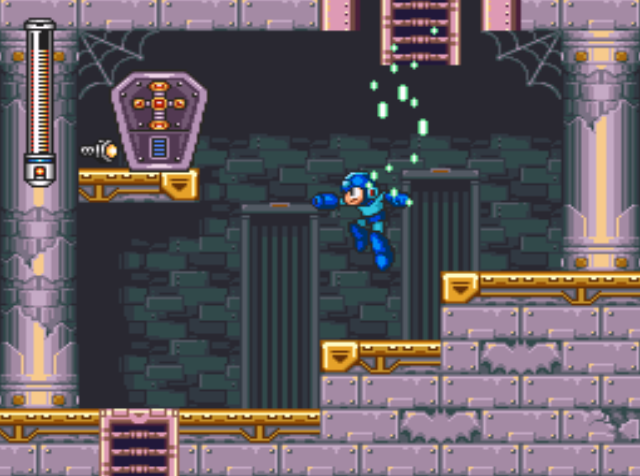 Wait for the enemy to drop down, then shoot him and use Rush Coil to reach the bolt.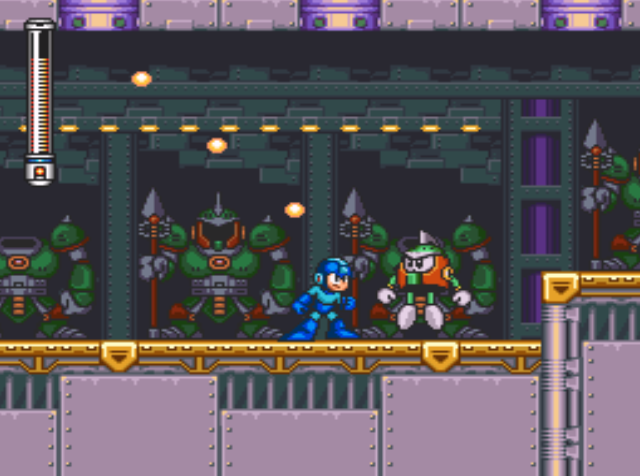 Beware these suits of armour. Some of the helmets are secretly enemies that will pop off to attack you. They can't be damaged until they stand up, so don't shoot until you see the whites of their eyes. There are three in this room, and a ladder at the end.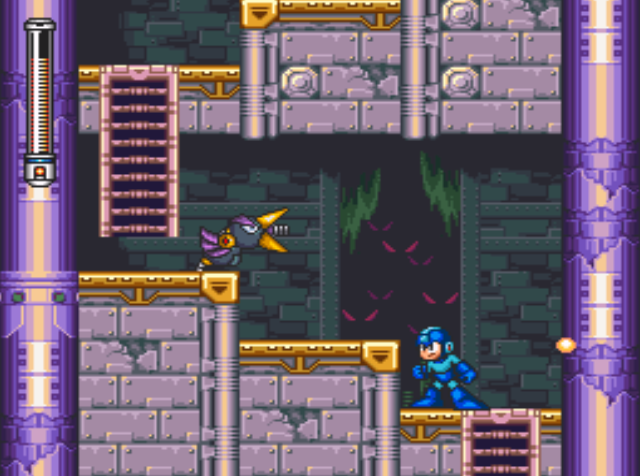 This room is all ladders and Crowbots. You can figure it out.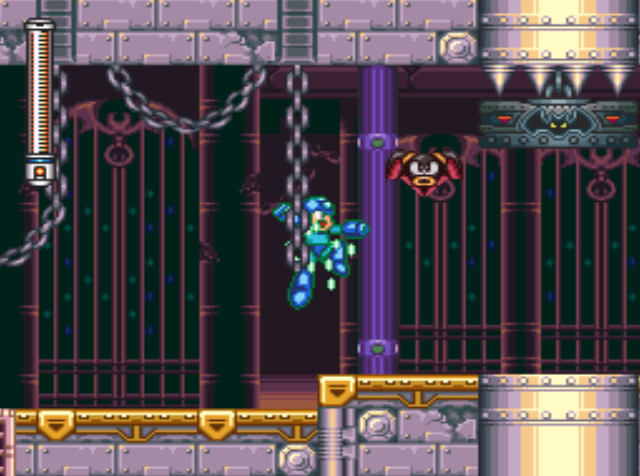 No horror-themed level would be complete without bats. These are weak. Your Junk Shield can come in handy here. Bring it up and they won't be able to touch you. It won't protect you from the big smashy trap that will drop from the spikes in the ceiling. Get close to trigger it and then immediately retreat to avoid it. Then hop over or run under it as it rises to get past it. There are several similar traps in a row. For the one on the elevated platform, run under it instead of over it. Next is a strange miniboss with a quirk.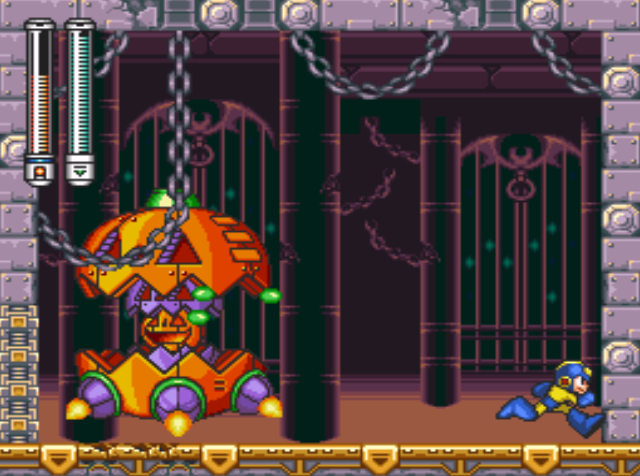 VAN Pookin is weak to Thunder Bolt. You can damage it by shooting either the eyes of the outer pumpkin or the tiny pumpkin inside. What you destroy to defeat it will determine what happens next. Shooting it in the eyes will send you on the right path. Shooting its tiny inner pumpkin pal will send you down. You'll need to go both ways to collect everything in this game. Right heads to the Equalizer and down heads to Proto Man. I would suggest heading right first, because you'll need to do the entire right path to get the Energy Equalizer, but only a small part of the lower path to reach Proto Man, meaning you can just leave the stage right after you meet him.

In the actual battle. VAN Pookin will bounce along the floor towards you. You can damage its eyes here. Then it will open up and reveal a tiny pumpkin that will shoot small projectiles. This is your chance to damage that part. It can also float into the air and send out a flurry of small projectiles. The small pumpkin can be damaged here, too. We'll cover both branches, so skip to the section you want to use.


The path to the right, with the Energy Equalizer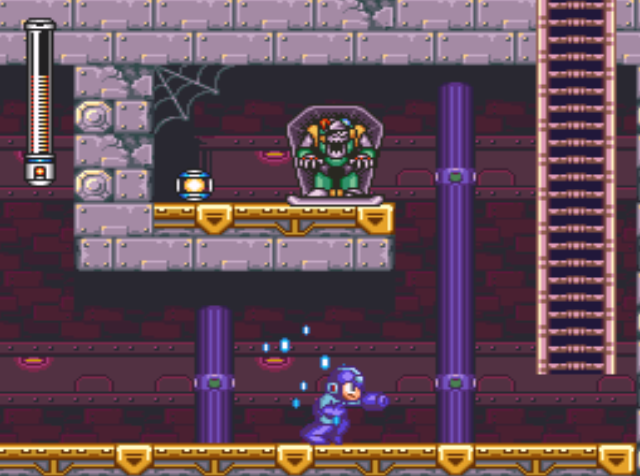 Unavoidable zombies. They'll hop out of their coffins before you can damage them. They don't take much abuse before going down. There's a health item behind the zombie near the ladder to exit this area. Wait for the zombie to drop down, then head up to the health item with Rush Coil.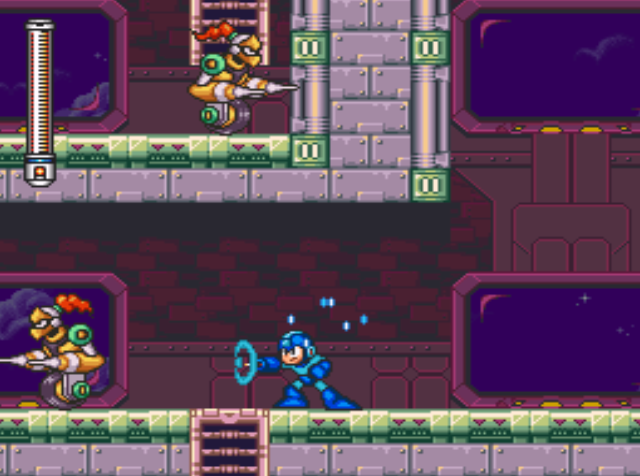 These knight enemies are no big deal. There's a 1up to the right, which you can reach by climbing up on the left and jumping down to it. If you don't need it, keep heading up.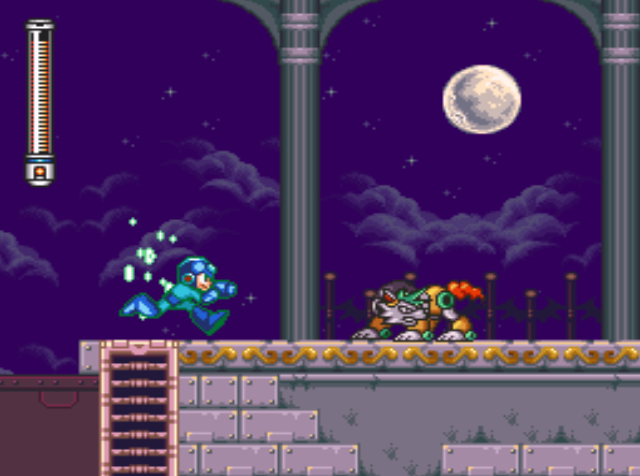 This wolf enemy actually takes a lot of damage. Slide under him when he jumps. Either fight him or just run. Defeat the knight and head down the ladder, and then head down the next ladder.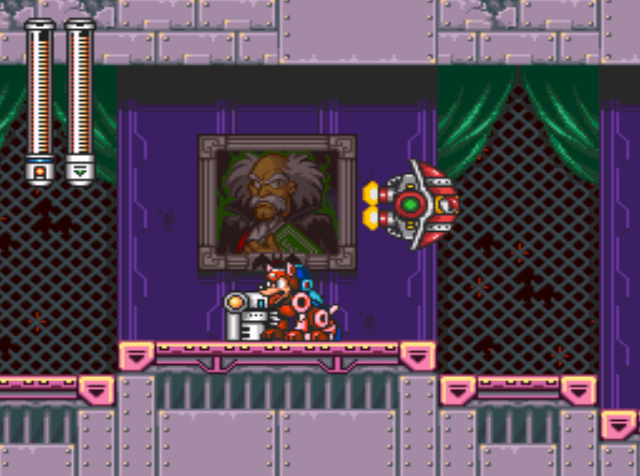 Take out the first shielded enemy, then use Rush Search under the painting. This will get you the Energy Equalizer, which will automatically fill up your weapon meters, even if you don't have a weapon equipped, when you pick up weapon energy. It will fill the weapons with the lowest energy first. You can buy this at Auto's shop, but it's pricey. Take out the third shielded enemy and head down the ladders, and down the hole. Scroll down to skip to the next relevant section.
The path down, with Proto Man
Defeat the shielded enemy and then pass through the wall directly behind him.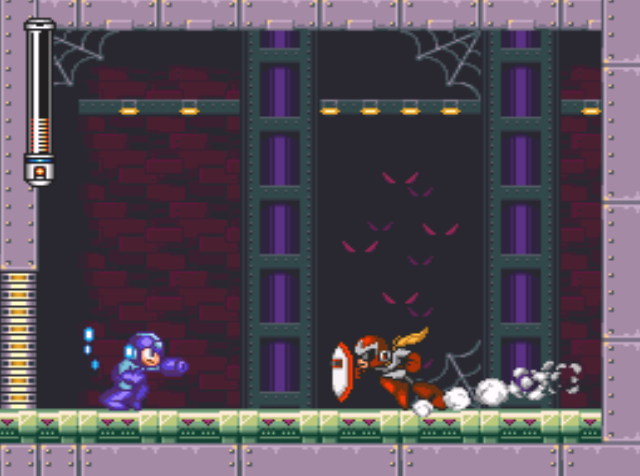 If you met him in Cloud Man and Turbo Man's stages, you'll get to fight him now. For some reason, he doesn't have an energy meter. He'll start by taunting you. You could say he's... throwing shade, man. Proto Man doesn't have a specific weakness, so stick to the Mega Buster. You won't always be able to damage him from the front, thanks to his shield. He can jump around, spraying bullets, or he can dash across the stage with his shield. The jumping attack is difficult to avoid, but easy to counter with a charged shot. The dashing attack can just be jumped over. If you see him charging up, he's going to fire a charged shot. Time your own charged shot so that it hits him after he lowers his shield, and jump over his shot. He can also just fire a flurry of three shots while standing on the ground. Jump over each one individually, and unleash a charged shot if you can get the timing right.
After defeating him, you'll get his Proto Shield. The Proto Shield can block shots when equipped, but only if Mega Man isn't moving. The down side is that it makes shooting and moving more difficult.
You can just leave this stage right now, if it's your second time through. If it's your first time here, backtrack through the area with the shielded foe and continue down. Maybe test out your new shield on the shielded enemy's shots. Give him a taste of his own medicine.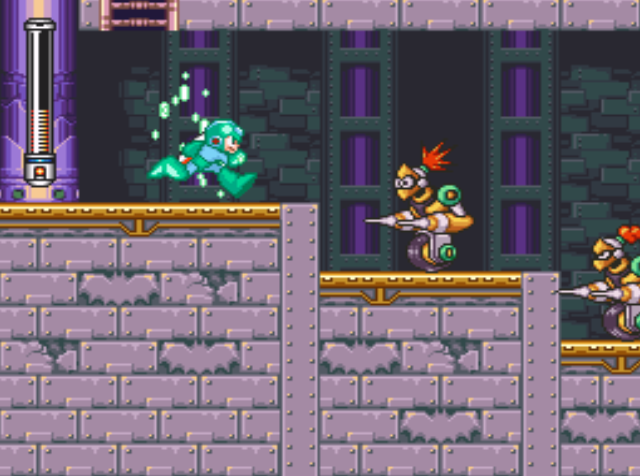 Take out these lame knights. Head down the ladder. There's no trick in the next area. Just use Rush Coil to get the health and drop down.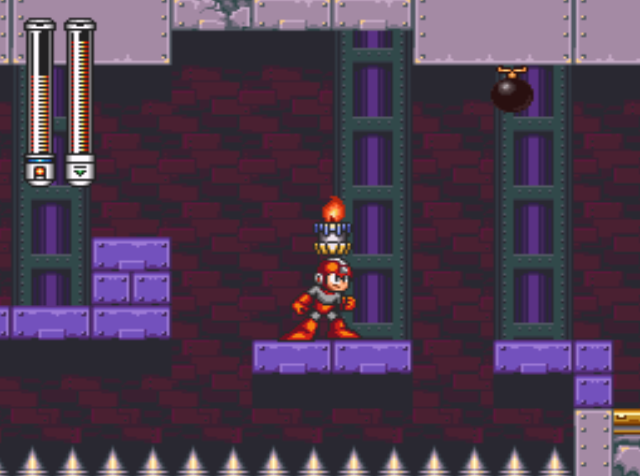 This room is so dark. You can use Thunder Bolt to create a flash of light that momentarily lights up the room, or you can use Scorch Wheel to light these torches. You'll have to slide if you want the 1up, but make sure you hit left to change directions before falling into the spiked pit. Make your way across, dealing with the bats.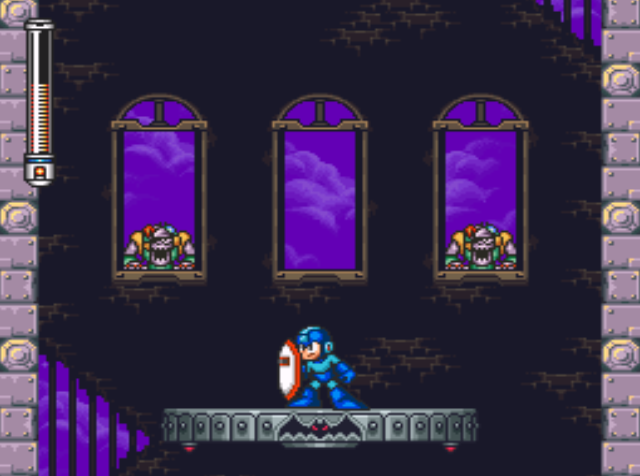 This room is an elevator. Zombies will jump out of the windows. You'll be able to see them for a moment before they jump down, except when you see a shuttered window. A zombie will jump through this window too, so beware. Ride the elevator all the way up and exit to the right.
This is where the paths converge
Head right to meet Bass and Treble. They're in bad shape, and they don't want to fight you. They'll leave to be repaired, and you'll be ready to fight Shade Man.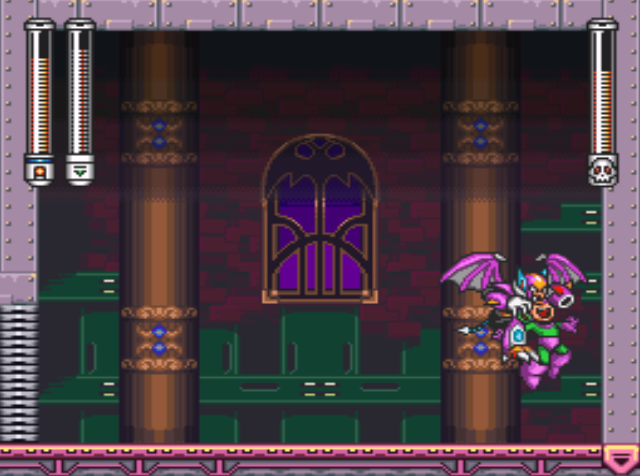 Shade Man is weak to Wild Coil. Charging the Wild Coil before firing it will do double damage. Holding Up on the dpad before unleashing the charged Wild Coil will make it bounce high enough to hit Shade Man in the air. Shade Man can fly. He'll swoop down at you with his talons, so sidestep it and counter with an attack. If he grabs you, he'll suck some energy from you, damaging you and healing himself. Wild Coil will cause him to fall to the ground and immediately start flying again, meaning you can trap him in a simple pattern. When he lands, he'll use a combo of attacks. The first two are eye beams that will petrify you if they hit. The third and fourth are sound waves. Slide under the low one and let the high one pass over you. They will bounce off the wall and come back, so avoid them on the way back too. They'll hit Shade Man, charging up a much larger sound wave. He can't be damaged while he's charging. Jump over the first one and slider under the second one.
Your prize this time is Noise Crush. It works like Shade Man's sound waves. Fire it to send it out. If it bounces off a wall and comes back to Mega Man, it will charge him up, and the next Noise Crush will be bigger and more powerful.
If this is your final Robot Master, defeating him will open up the final set of stages, but make sure you visit Shade Man's stage a second time to take the path you didn't take the first time.
NEXT: Wily's Castle 1