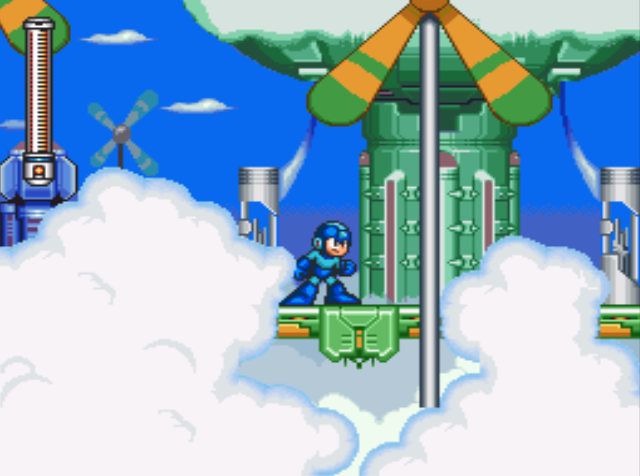 You probably have some bolts by now, meaning you can press Select on the stage select screen to visit Auto's shop and buy some stuff. You should probably wait, though. Later we'll find an item that will cut the prices of everything in his shop in half. Up next is Cloud Man, on the left of the select screen, who is weak to Danger Wrap.

Remind you of anything? This level is a lot like Air Man's level from the greatest Mega Man game ever, Mega Man 2. You'll quickly meet some Tsuranattoris, which attack by zig-zagging around. Groups of these guys will always follow their leader, attacking as one unit. If the leader is destroyed, they'll immediately fly away. They will eventually just fly away if you ignore them, too.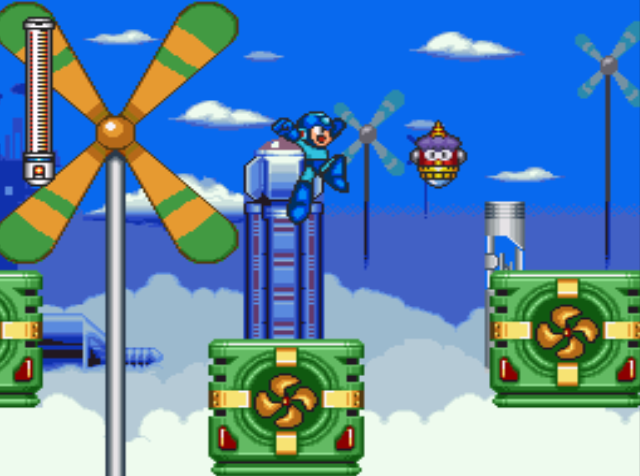 These things are Kaminari Kogoros. They jump up from pits and then float down. Some of them fire lightning before floating down. Destroy them or wait for them to get low enough before jumping. If you're quick and high up enough, you can jump over their pits before they reach high enough to damage you.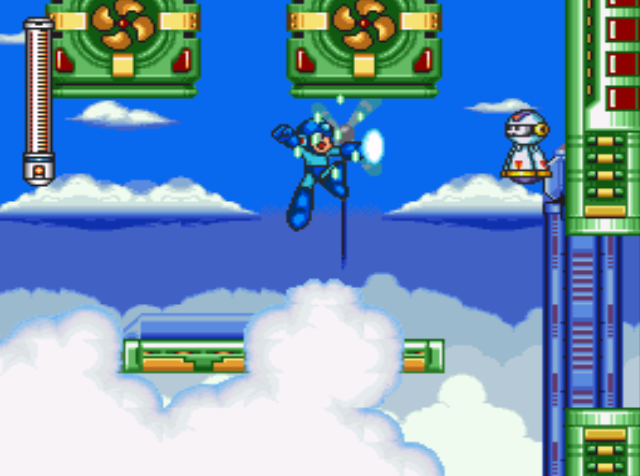 You can't defeat this weather ghost robot, but you can make it go away by shooting it. Shooting it will make it rain, but the next area will have rain whether you shoot it or not, so it's kind of pointless. The rain doesn't really do anything right now anyway. Continue right and climb up.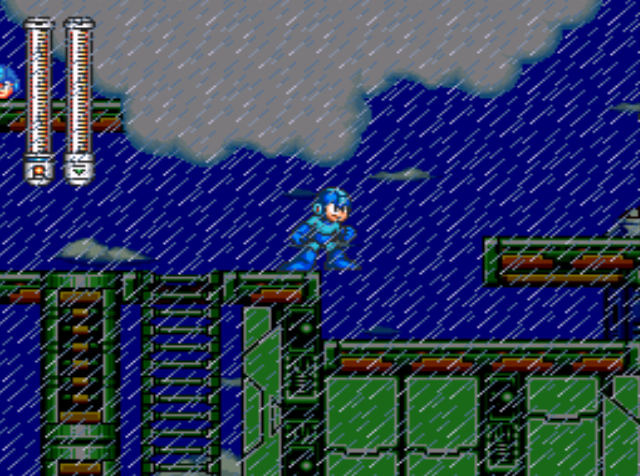 You can grab this 1up with Rush. This next weather ghost does nothing unless you have Freeze Cracker, which will make it start snowing. Definitely hit it with the Freeze Cracker if you have it. The snow will come in handy later. Continue right past the familiar enemies. Grab the health with Rush if you need it. Hop up the blocks to the ladder to the next area.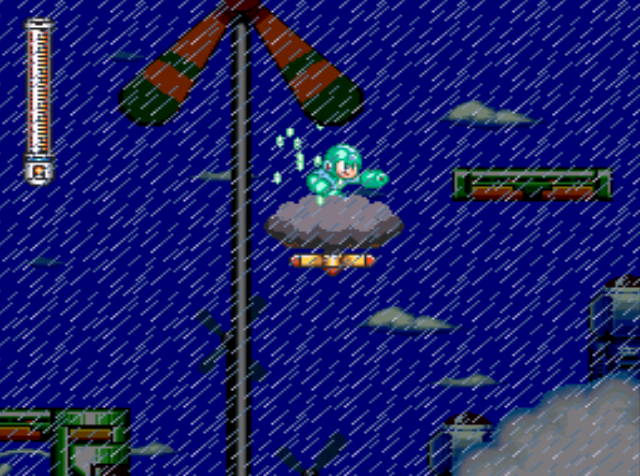 These clouds slowly float in circles. You can ride them. Keep charged shots handy to quickly take out the flying turret enemies as you make your way to the right using these clouds. You'll slide to the next area once you reach the far right.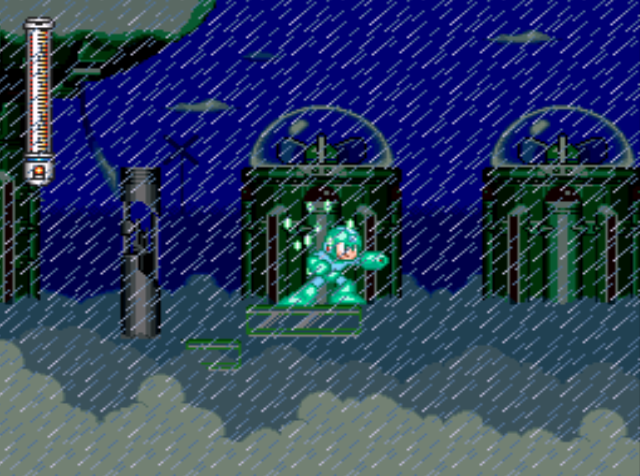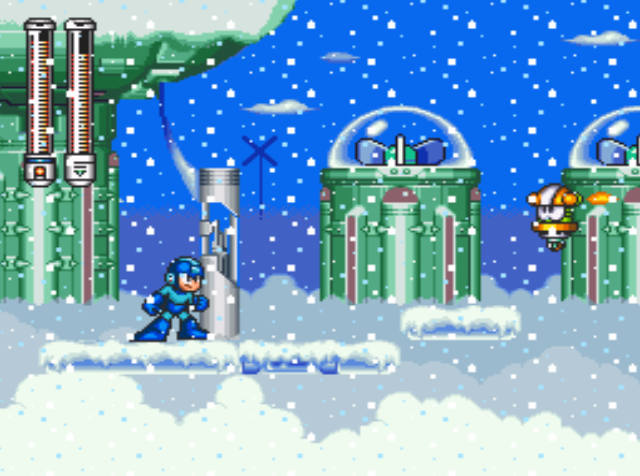 Unless you froze the robot earlier and made it snow, you can only see the floor within a certain radius of Mega Man in this area. Thank the clouds for that. Be careful and aware of your surroundings. When you run out of ground, take a leap of faith to the right. Watch out for the DeluPipis carrying eggs. Destroy the eggs (and their mothers) before they hit the ground and hatch into a swarm of babies that will fly at you. They're weak but it's tough to avoid a whole group of them. Continue right, being careful of the gaps in the floor. Keep an eye on the sky for a platform that you need Rush to reach. There's a ladder here that will take you to a 1up and a letter.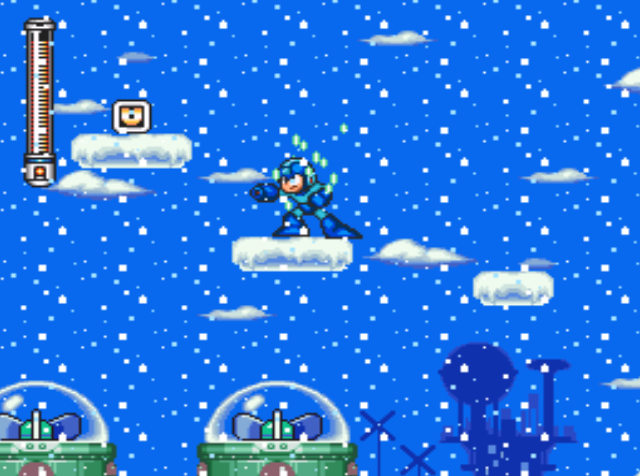 If it's snowing, look to the left for another platform. Jump to it, and then continue left to reach the letter U. Head back to the ladder and continue on.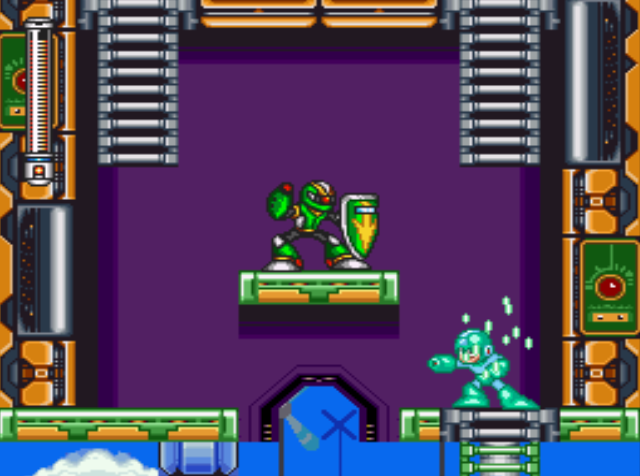 This guy can't be damaged from the front until he lowers his shield to attack you. The ladder on the right leads to a dead end with some health, which may be worth your time. When you're ready, take the left ladder up.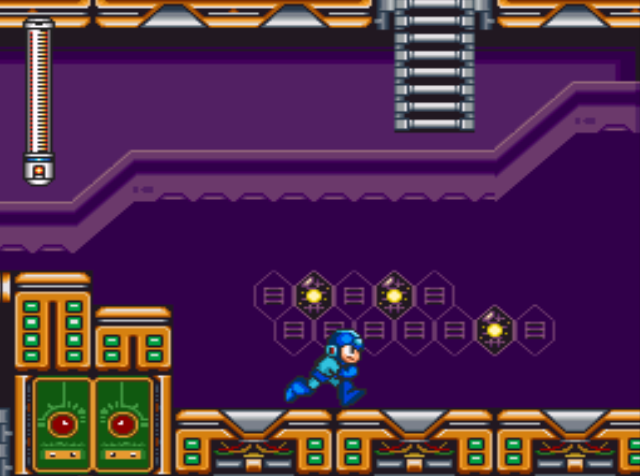 Head right until you reach this ladder. Use Rush to reach it and climb up.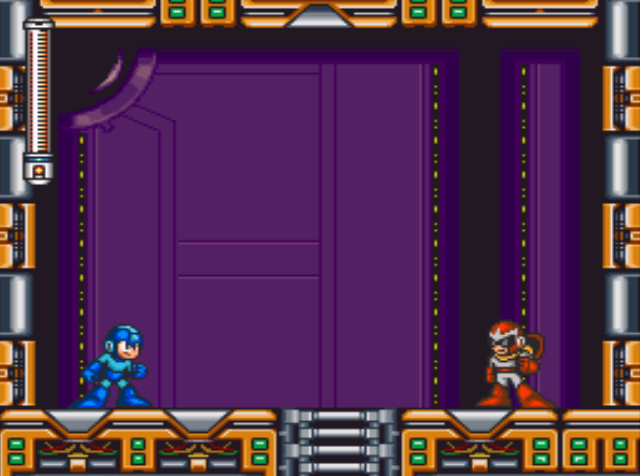 There's that familiar whistle. It's Proto Man! He actually just gives you some information about using your weapons to uncover secrets. He might seem like a waste of time right now, but you'll need to meet him now to accomplish something later. Head back down and to the right, grabbing the bolt on your way up.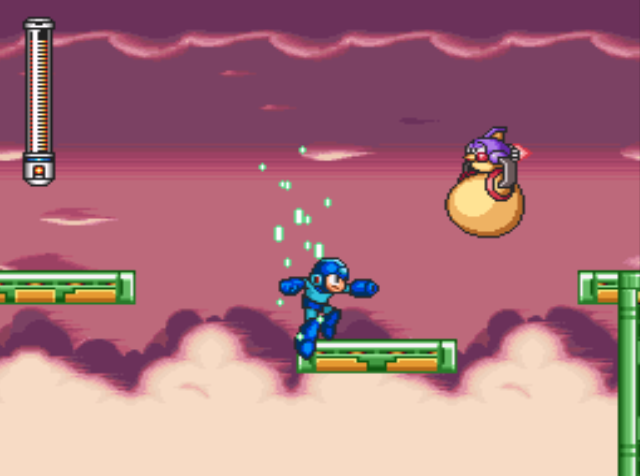 This next area has platforms and birds. Nothing interesting at first. Keep charged shots ready for the birds. You'll eventually reach some Boufoohs.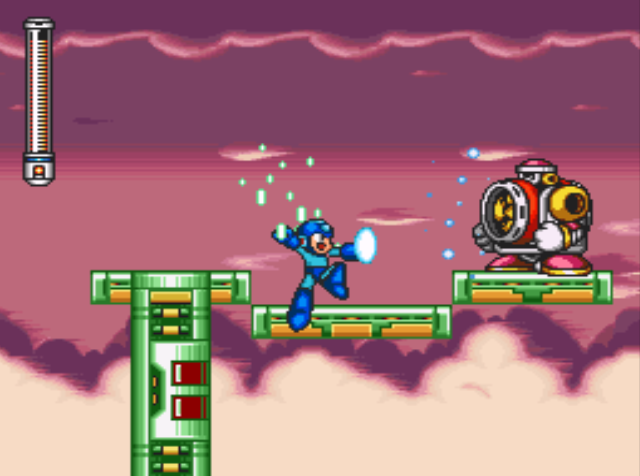 These things affect the wind with their fans, either sucking you towards them or blowing you away. Destroy them to clear a path and make jumping easier. The boss is coming up.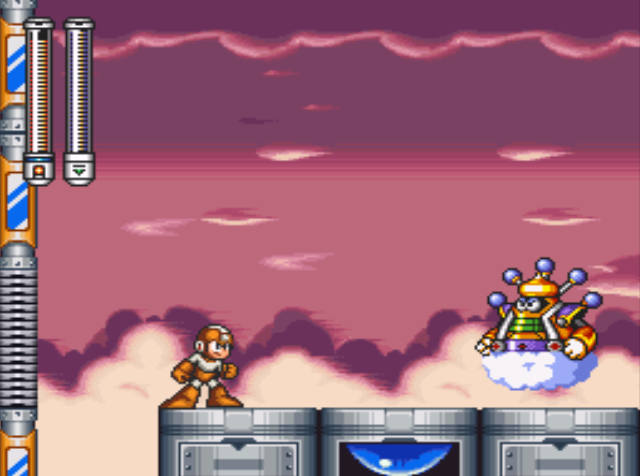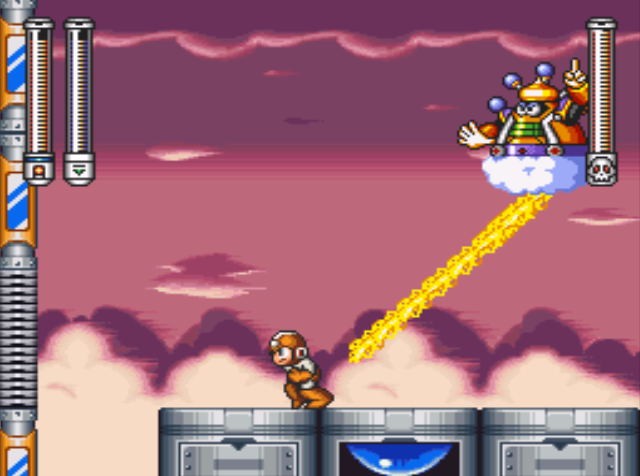 You'll want to use Danger Wrap for this, if you have it. Cloud Man can't be damaged when he's charging up, which he will do often before unleashing various attacks. Don't waste your charged shot/ammo. When he's high up, he'll unleash a bolt of lightning in your direction, which will scatter and travel across the floor when it hits it. Cloud Man can summon a storm that will push you in one direction. There are pits in this room, so move and slide to counteract it, avoiding his attacks as you do. He'll fire lightning at the floor that will travel along the floor, so jump over it. When he floats at you, slide under him and turn and shoot him.
If you hit him with Danger Wrap, he'll float up in a bubble, pop, and then drop to the ground. This will reset his attack pattern, meaning he'll immediately float up and charge up a lightning bolt every time he recovers from this attack. He stops flashing a moment before he summons lightning, so it's possible to hit him with Danger Wrap before he has the chance to do anything at all. Danger Wrap can cancel his rain.
Your reward is the Thunder Bolt weapon, which shoots electric spheres that split apart and travel up and down when they hit something, and can power certain machines.
NEXT: Junk Man