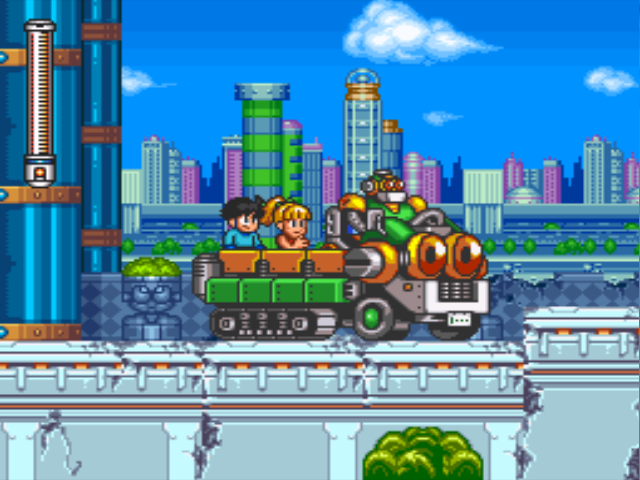 Mega Man 7 is the only game in the main series to start with an intro level before the Robot Master stages, so let's get down to business. We begin with Mega Man, his sister Roll, and their pal Auto driving over a ruined street. Dr. Wily is causing trouble again. After some talking, you'll automatically move right and encounter Dr. Light and Rush for some more talking. After another conversation, you'll finally be able to play for real. Head right.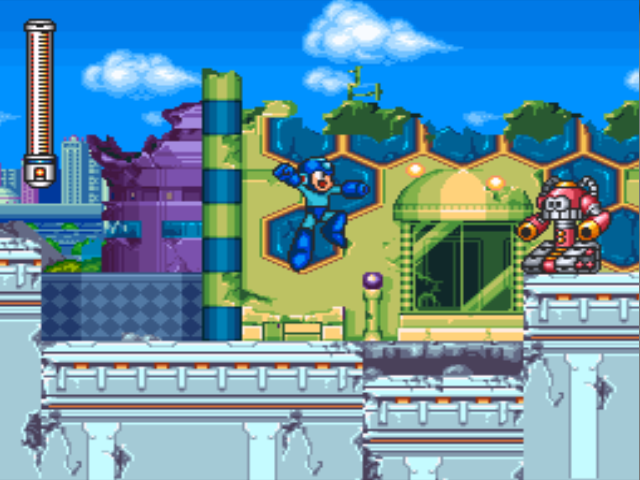 You'll run into two types of enemies in this stretch. The taller ones are Bunby Tanks. Try to aim for their heads, or hit them with charged shots, to destroy them completely. If you just destroy their bodies, their heads will survive and fly at you. They're easily destroyed, though. The smaller enemies are called Metall FX. These are series mainstays. They can't be damaged until they peek out from under their helmets, but they only take one shot to go down. Shoot them quickly, because they'll fire a spread of three shots shortly after their show their faces.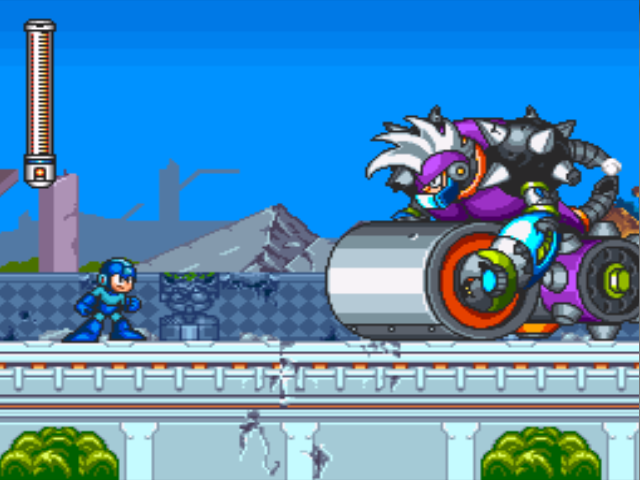 The next area features a miniboss. Mad Grinder has a spinning bladed mohawk that it will throw at you. It will roll along the ground, so jump over it, and make sure to avoid it on its way back, too. Mad Grinder himself will move back and forth. Don't let him touch you. Your shots will bounce off his steamroller, so jump and shoot him in the face. After enough shots, he'll go down, and you can proceed. Be careful of the bottomless pits directly behind him as you make your way to the final area of the intro stage.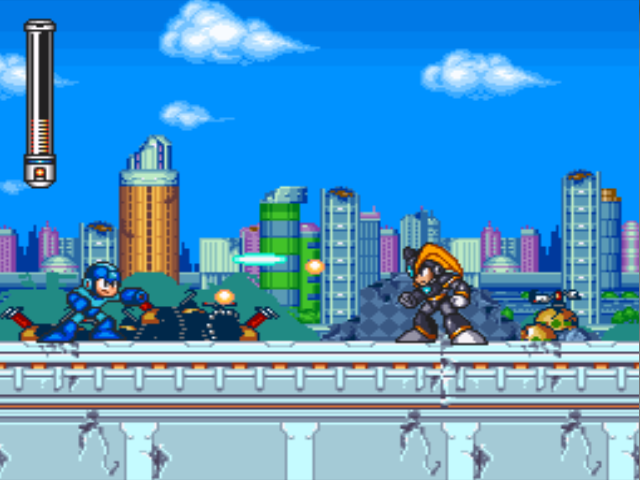 One more miniboss. Your brand new foil, Bass, will show up several times throughout the game, and the remainder of the series. He doesn't pose much of a threat to you right now. You actually don't have to beat him, since you won't die and the stage will just end if you take enough damage. He'll jump up and down in place and shoot at you. His shots travel straight ahead, so they'll pass right over your head if he shoots in the air while you're on the ground. Stand back and fire at him when he lands, jumping only to avoid low shots. After enough damage, his pal Treble will appear, and the two will exit together, ending the stage.
NEXT: Burst Man