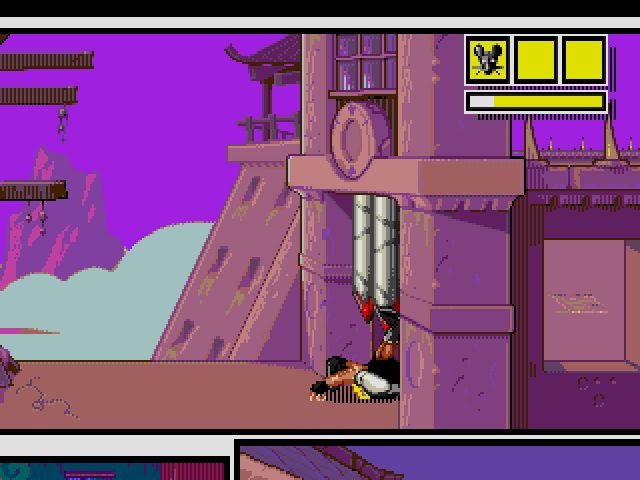 Take out these two Kreeps with some uppercuts. Rather than wasting health breaking down this barrier, jump up onto the wooden structure and hang from one of the limbs. This will raise the barrier. It drops quickly, so drop down from the structure, crouch, and push down/forward on the directional pad to roll under it like Indiana Jones. If you don't have Roadkill already, he's hidden behind this waist-high wall. You can't see him, but you'll pick him up if you press down here. Head to the next panel.

It's Styx. Hooray. Beat him up and he'll drop an iced tea. Release Roadkill to find a mystery item if you want. Maybe it won't blow up and kill you. You won't know until you try. Head down when you're ready.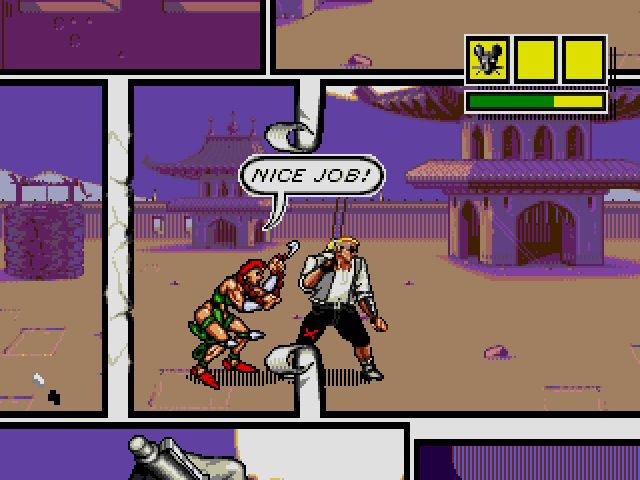 This long panel has a couple of weak borders you'll have to destroy. The easiest way to do this is to toss Mongoria through them, since you'll have to fight her three times anyway. All three of her will be defeated immediately if you sic Roadkill on them. There's a grenade you can pick up on the far left side of the panel, as well as a branching path. The left path is a bit easier.

Left Path




The panel is on fire! And somehow this won't cause the entire page to just burn to ashes! Destroy the torch and then destroy the trap door under it and drop down. Destroy the next trap door to drop down another level. You can destroy this next torch for a knife, but it's a red herring. Instead, destroy the floorboards on the right side to drop down out of the panel and away from the fire.

Destroy the skull flamethrower thing here and release Roadkill to sniff you out some TNT that you probably won't have any use for.

Down Path

Destroy the crate off to the side for the TNT inside. You'll need it. Throw your grenade at Strigil to stop his fireball spam. Head right.




You'll be hanging from a bar attached to a rope. Don't let go! These enemies popping out of the walls are called Worms and they only appear in this panel. Kick their heads to beat them. Once the fourth Worm appears, drop your TNT into the giant horrifying bear trap at the bottom of the well to destroy it. Once it's gone, it's safe to drop down. Roadkill can find a knife for you here. Head left.

Paths Converge




There are three punching bags in the middle of this room and Styx will be on the opposite side of whichever one you're on, which depends on which route you took. Rather than waste your energy destroying them, let Styx do it for you with his fireballs. Once they're gone, beat Styx and drop down.




Destroy the crate for an iced tea. It's probably a bad idea to punch the punching bag covered in spikes. The switch on the left side of the room will raise the bag, but not for long enough for you to rush across the room and pass under it. You can destroy it with the TNT you may or may not have with you, or send Roadkill to flip the switch for you. You won't be able to take Roadkill with you if you do this, but you won't need him any more on this page anyway. Head right to face the boss.

Kung-Fung




Kung-Fung spends a lot of time out of reach in the background. When he's back there, he'll send energy balls out from his hand that crawl along the walls and floor. Stay near the middle of the room and jump over the energy balls to avoid them. Once he moves to your plane, he'll shoot his creepy fingernails at you. They'll get stuck in the walls and explode if anything touches them, including energy balls, other fingernails, Sketch, or, importantly, Kung-Fung himself. Once there are nails in one of the walls, jump over Fung and hit him a few times to send him flying backwards into them. The amount of time he spends within reach is random and the nails will get destroyed by energy balls if they're low enough on the wall when he retreats. Hit him into enough nails and he'll go down. On to the final Episode!