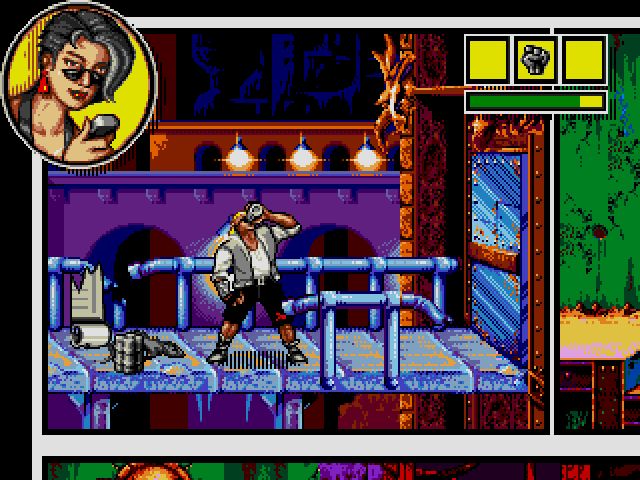 You'll find yourself in front of a very heavy door. You can destroy this with a few shoulder smashes, but that will drain health. The smarter thing to do is unleash Roadkill so he can find you some TNT, and use that to blow the door to smithereens. Right, in we go.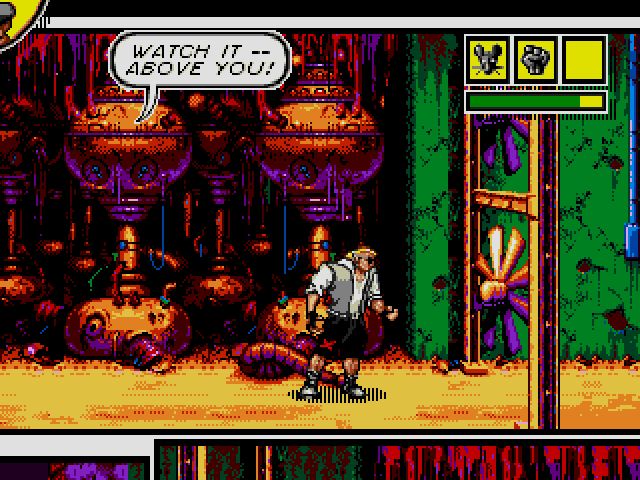 You'll be in a room with some fans that you should definitely not touch. Some cocoons will come down from the ceiling. Destroy them quickly with jump kicks or high attacks, one at a time, before they can release small scorpion-like enemies called Crawlers. Crawlers themselves are really easy to deal with using low attacks, but it's better to just prevent them from spawning entirely. Next you'll have to fight Strigil, but you can take him out quickly by knocking him into the fans. Release Roadkill to crawl under the fans and flip the switch on the far side to turn them off, then destroy them and move on.

What do you do with a dangerous wall of fans and a dangerous explosive box? Push the latter into the former, of course, stand back, watch the fireworks, and head to the next panel.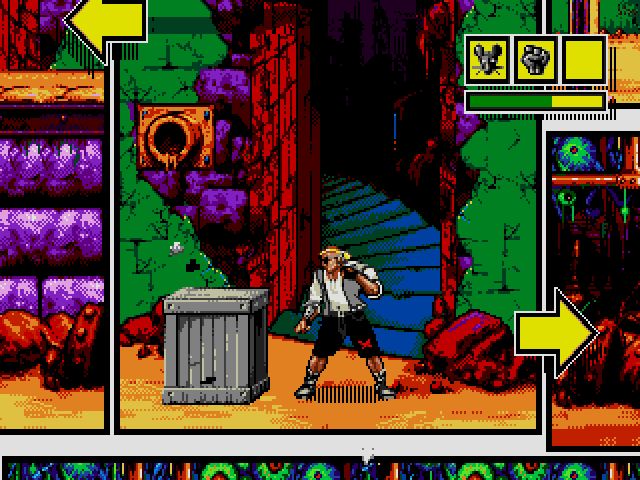 Ignore this crate for now and focus on taking out the two Kreeps. Once that's done, you'll be able to go left or right. The left path is easier, but you'll need to climb the crate to reach it, meaning you'll have to leave the precious grenade inside of it behind.

Right Path

Three more cocoons will slide in from the right along a bar, which you can climb like the sewer pipe in the previous level if you want. Destroy all three cocoons and head down.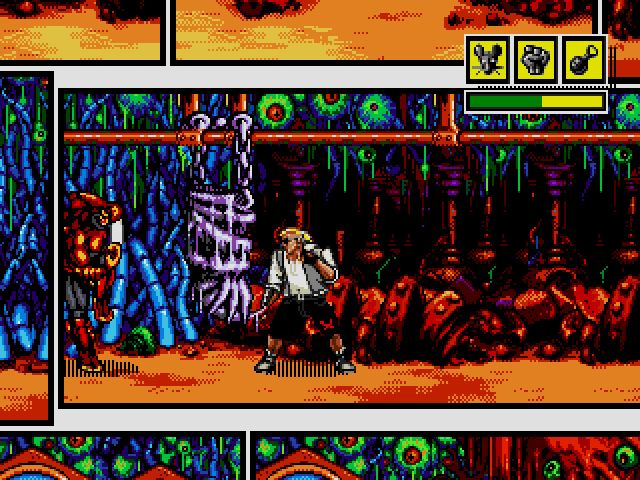 Gravis is the one shoving these things at you, so make your way to the right and put a stop to him. He'll leave a Super Fist behind when he dies.

Left Path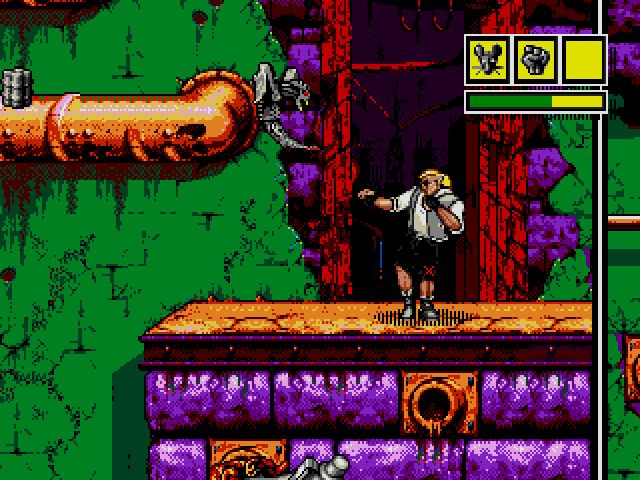 Take out the Kreep here and climb up onto the pipe and grab the TNT. Drop back down to the ledge you were just on and drop the TNT off the side to stop Gravis' spring spamming. Easy as pie.

Paths Converge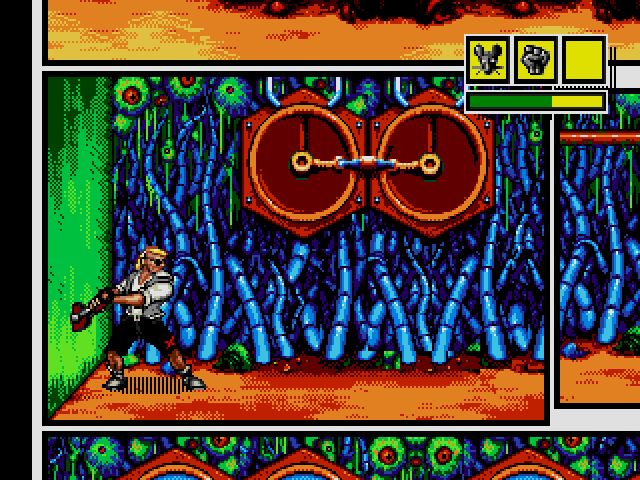 You'll find a strange device with two spinning arms. The switch on the left will start and stop the arms. Flip it once to stop the left arm, again to stop the right arm, again to start the left arm again, and one more time to start the right arm again. Your goal is to stop the arms so that they're both "grabbing" the bar in the middle, like in the screenshot. We're getting close to the end now.

Head down and take out the two Crawlers with low attacks. Time to meet a new enemy.

Spawn Mutant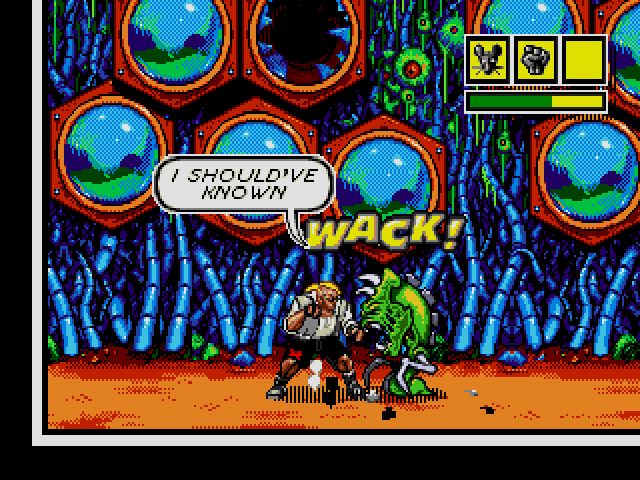 These things aren't very mobile. They can't jump, but they can attack you with their horn and spit green globs of who-knows-what at you. They have a tendency to fight each other when they accidentally hit each other with their attacks. Try not to grab these, and if you do, attack them immediately. Otherwise, they'll morph into a tougher enemy like Gravis or Strigil. You'll have to fight eight of these here. After you're done, set Roadkill loose to find you some delicious iced tea. You might need it soon. On to the next panel and the first boss.

Big Mama Dragon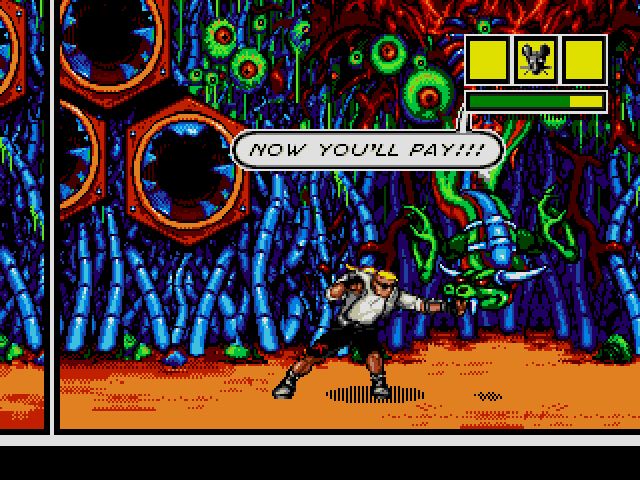 A big gross mutant that breathes fire and tries to bite you while hanging from the ceiling. She's actually pretty easy if you know the trick to beating her. Do enough damage and she'll scream and pull herself upwards for you to run past her. You can do this quickly if you have a grenade or Super Fist. Once you reach the other side, stand on the opposite side of the oil drum you find there and let Mama hit it with a fireball to set it on fire. Then simply (and quickly) push the flaming drum under her to burn her to death. That's it! If you screw up and get the drum destroyed, you can still take her out with regular punches and kicks. It's good to hit her with aerial attacks to avoid her biting and fire attacks.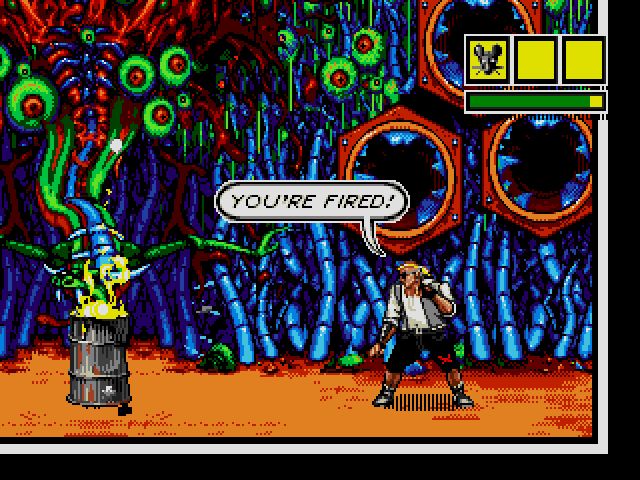 Terrible.