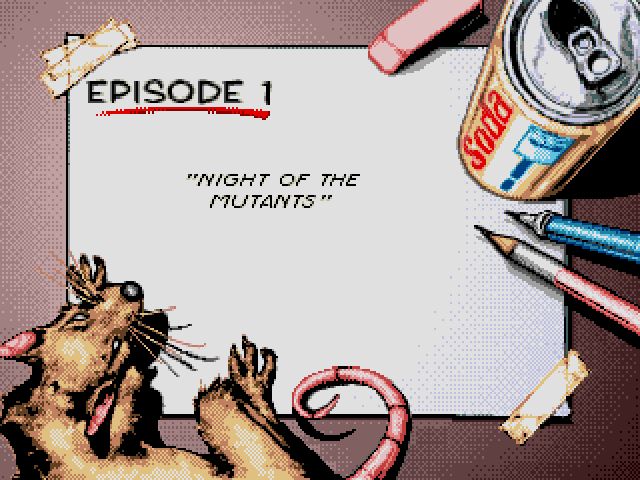 After the opening story scene, you'll find yourself in the first panel of the first page of the first level. Your new best friend Alissa is there to boss you around through comic book speech balloons and send you on your way. This game has a lot of dialogue for a brawler. None of it is exactly important to the gameplay, but feel free to hang around and read it whenever it appears on screen. Before you move on, pick up the iced tea, knife, and TNT. Use the knife whenever you want, but hang on to the iced tea until you're at half health or less, and that TNT might come in handy later, depending on where you end up. When you're ready, move on to the next panel and your first enemy encounter.

Gravis




Comix Zone doesn't have that many different enemies, so you'll be encountering them all many times throughout the game. Our first foe is Gravis. Aside from regular punches and kicks, Gravis can throw explosive spring projectiles. High ones will travel in a straight line, bounce off the far wall, and come back. Low ones will crawl along the ground like Slinkies.

After you defeat Gravis, Mortus will draw another identical one for you to fight. Yes, Mortus exists outside of the comic and can simply draw enemies and obstacles for you to deal with. What a jerk. Defeat the second Gravis and you'll reach your first crossroad.




Each page has at least one point where you can decide which way to go. The split is only temporary and you'll eventually end up on the same panel no matter where you go, but the games are about journeys, not destinations. In this case, you'll likely have an easier time if you go right. We'll cover all of the different routes in the game so skip to the section that's relevant to you.

Right Path

Another Gravis, this time with a flaming oil drum. Avoid touching the top of the drum, where the fire is. (This is generally good advice in real life, too.) You can jump over it, or just destroy it to get to Gravis and beat him up. After he's taken care of, attack the manhole cover you see on the ground and destroy it to proceed.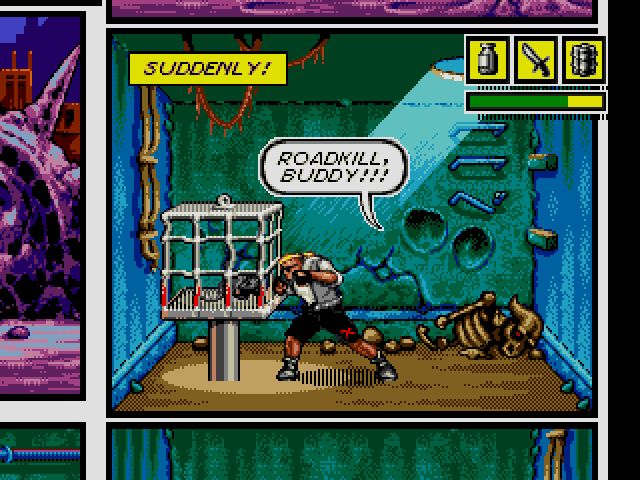 Down here you'll run into your trusty sidekick, Roadkill the Rat. He's handy to have around, but he takes up a slot in your inventory. If you still have all of the items from the first panel, you'll have to leave something behind. I suggest ditching the knife. The floor will collapse and you'll land in the panel below.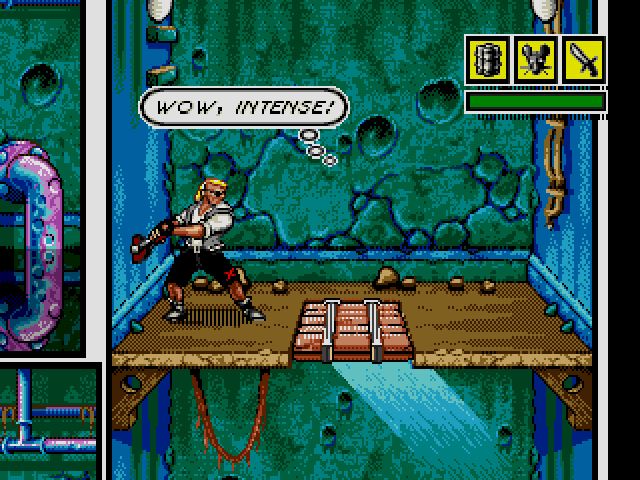 You can flip switches by simply touching them to grab them, then hitting the attack button. They can also be flipped with thrown knives or by sending Roadkill towards them. Flip this one to open the trap door in the floor and then hop down.

The next area has three oil drums you'll need to destroy. You can just attack them a few times, but that will drain health, and one of them has a flying enemy called a Kreep waiting inside. Kreeps simply float around, occasionally swooping down to attack you. They can be taken out with a few high attacks or jump kicks. The best way to deal with this one, however, is to drop your TNT next to the barrels and stand back as it destroys the whole works of them. Before you go, send out Roadkill to find a hidden knife on the right side of the panel. Be sure to pick him up again before proceeding. This is where the two paths converge, so skip ahead

Down Path

If you head down, you'll find four oil drums blocking your path. You can destroy them quickly with your TNT, but one of them has a handy Super Fist inside that will get caught in the blast if you do that. Still, you'll lose a bit of health if you attack them normally, so decide what's more important to you and deal with the drums appropriately before heading to the next panel.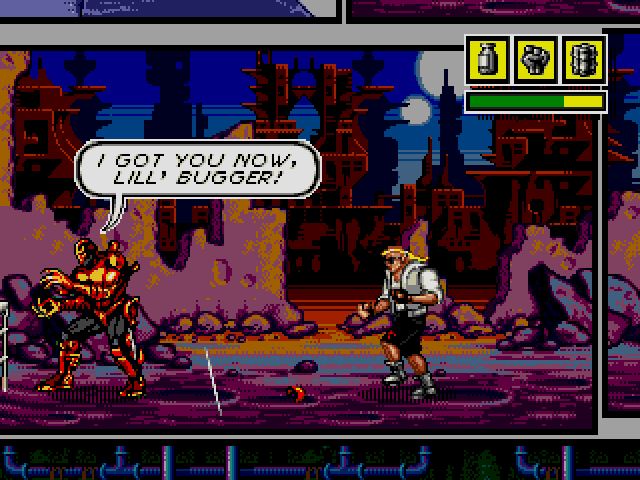 Gravis has your little buddy! Beat him up and then destroy the cage and take Roadkill. He takes up a slot in your inventory, but he's useful enough to be worth keeping around. Destroy the manhole cover and head down to a fight with a new enemy.

Strigil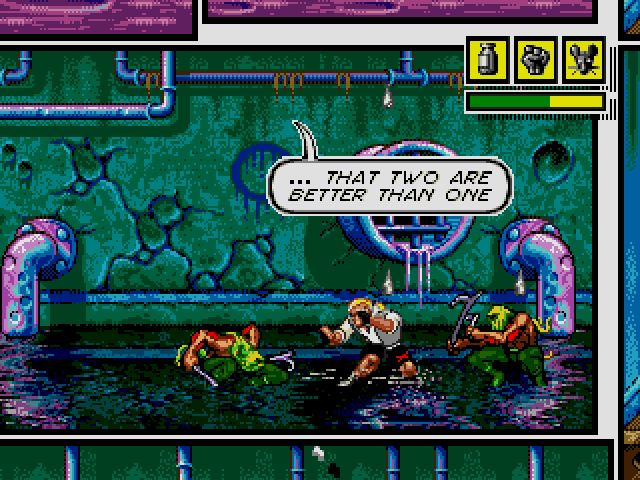 Strigil is short enough that your regular high kick will go right over his head. He attacks with his hooks, which he can also use to grapple on to pipes and bars that can sometimes be found overhead, including right now. If he does that here, either follow him up onto the pipe and kick him, or simply uppercut or high kick him from the ground. Strigil can also shoot fireballs and teleport. You'll often have to fight two of him at once, like now. Take them down and move on.

Paths Converge

Here's where you'll end up no matter which way you chose to go in the second panel. This panel is pretty much identical to the previous panel on the down path, except with one Strigil instead of two. If you took the right path, see the previous paragraph for general advice on dealing with Strigil. Defeat him and get going.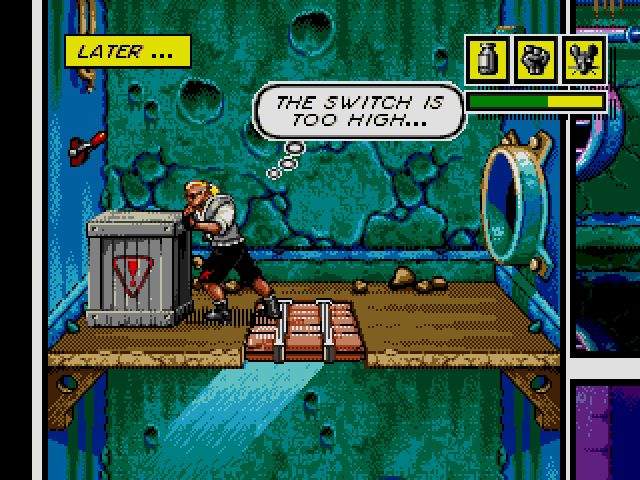 Unmarked crates are harmless, but crates like this one, with a red "!" symbol on them, will explode when destroyed. Push this one over to the left and jump on top of it to reach the switch and flip it to open the trap door in the floor. Be careful! There are two flaming oil drums down there. Stand on top of the crate and push against the left wall to move the crate with your feet, then push it into the hole. It will drop down and explode, destroying the oil drums. From there, simply hop down and destroy the grate to the right to proceed.




This next area has two fragile panel borders. These can be destroyed with a few hits, or by sending an enemy (like our good friend Gravis here) flying through them. This area holds our most dangerous enemy so far: a bottomless pit. You can knock Gravis into it to take him out quickly, but don't fall into it yourself or it's an instant game over. You'll find two flying Kreeps here, which you should probably take out before making the jump since they can knock you out of the air if you're not careful. Once the coast is clear, jump over the hole to land safely on the other side and complete the first page of the first level.