You are not signed into a user account. Please return to this page once you are signed into your free account for additional options.
| | |
| --- | --- |
| | Once upon a time there was a blog, and then it exploded. BOOM! Suddenly, everything was pink no more! |
...Is the first one that sings in this song.



If you disagree, you are wrong.

=D
Clicking!
I honestly think the world's coming to an end... For a third and fourth review are forthcoming!
So while I was out shopping today, I actually scored a couple good deals on games.

First, I got that Klonoa remake for the Wii, which ran me $20.

Then, and this was the bigger deal, I got the PSP port of Parappa the Rapper for $2.99, plus tax.

GREAT SUCCESS, too bad I'll be busy playing other stuff for the next week or so.
[reply][view replies (0)]
I just submitted my first review in, well, forever.

Suck on that!

PS: Something for genj:


Because I'm planning on penning a new review soon!
Finally, North American Xbox 360 players will get one of the best shmups in recent years. It's being published by Aksys.I hope they bring more Cave shmups over as well!
Did you miss me? <3
Not a lot in terms of news coming out of Japan lately unless you guys wanna hear more about that
Kingdom Hearts
game coming to DS. So instead, here's a list of the top 30 games in Japan at the moment, based on sales.
As of 3/27/09...
1. Musou Orochi Z [Warriors Orochi] (PS3)
2. Biohazard 5 [Resident Evil] (PS3)
3. 3D Picross (DS)
4. Makoto - Mukini Musou MULTI RAID (PSP)
5. Mario & Luigi RPG 3!!! (DS)
6. Wii de Asobu: Pikmin 2 (Wii)
7. Ryu ga Gotoku 3 [Yakuza] (PS3)
8. Monster Hunter Portable 2nd G (PSP the Best)[PSP the Best is their "Greatest Hits" budget rerelease line in Japan] (PSP)
9. Seventh Dragon (DS)
10. Wii Fit
11. Ani no Atorie: Sera Shima no Kin Jutsu Samurai [Atelier Ani] (DS)
12. Aibou DS (DS)
13. Biohazard 5 [Resident Evil] (Xbox 360)
14. Rhythm Tengoku Gold (DS)
15. Resistance: hofuku no koku [Resistance Retribution] (PSP)
16. Dokimeki Memorial Gals Side 1st Love Plus (DS)
17. Taiko no Tatsujin Wii (Wii)
18. Galaxy Angel II: Eigou Kaki no Koku (PS2)
19. One Piece Unlimited Cruise Episode 2: Mezame ru Yuusha
20. Wagamama Fashion Gals Mode (DS)
21. Super Robot Taisen Z Special Disc (PS2)
22. Mariokart Wii (Wii)
23. Sunday X Magazine: nettou! Dream Nine (DS)
24. Idolmaster SP Perfect/ Missing Moon/ Wandering Star (PSP)
25. Oideyo Doubutsuno Mori [Animal Crossing] (DS)
26. Pokémon Platinum (DS)
27. Tongari Boushi to Mahou no 365 Nichi
28. World Soccer Winning Eleven 2009 (PS2)
29. Demon's Souls (PS3)
30. Wii de Asobu Mario Tennis (Wii)
And that's about it.
Source:
Famitsu
[reply][view replies (0)]
As many of you may know, I'm a pretty big Falcom fan. Falcom released two news snippets recently with quite a lot of information:
1. Ys 7 will be released exclusively for Playstation Portable in September '09. This marks the first time since the SNES era that an Ys game was not first released on a PC. This is also the first direct sequel to be released since Ys VI: The Ark of Napishtim, with the past two Ys games being a remake (albeit a
very
good one) and a prequel starring the ancestor of the first Ys game's villain.
2. It seems like Falcom have stepped in to show us how remakes are done once again after the
disappointing
Legacy of Ys for Nintendo DS. Scheduled for a July '09 release, Ys I&II Chronicles will be released exclusively for PSP. It will feature new graphics and BGM like Ys I+II Eternal did waaaaay back when.
With the recent release of Brandish: Dark Revenant and with a multitude of upcoming Ys games, this year looks to be a very Falcomriffic year!
In Japan, the PS3 is getting a lot of love lately.
So you may have heard, but there's a new Mobile Suit Gundam game coming out for PS3. Listed as an "anime robot" game, it's coming out as Gundam is hitting its 30th anniversary. It's going to include a "Network Mode" and a "Scenario Mode" However, how they're going to make it not suck ass like that first PS3 Gundam game remains to be seen. Screenshots look harmless though: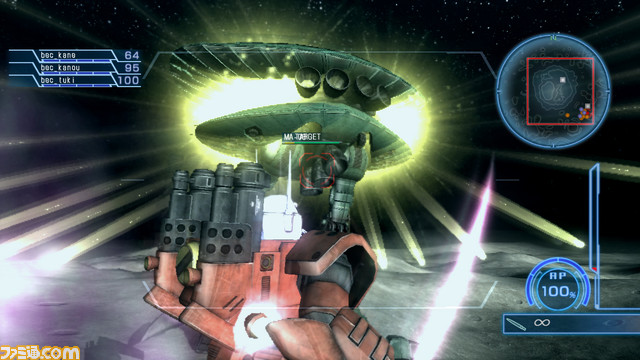 The game is slated for a 4/3 release date in Japan.
==============================================
Ninja Gaiden Sigma 2
is coming out for Playstation 3 as well. Ayame, the purple haired chick from Tecmo's
Dead or Alive
series will be featured as a playable character. I seem to remember a quote from series creator Tomonobu Itagaki saying that he would never make a PS3 version of Ninja Gaiden, so now that Itagaki has left the company, the announcement of
Ninja Gaiden Sigma 2
serves as a giant "fuck you Itagaki" on behalf of Tecmo.
More to come in a week!
Other Notable Releases in Japan
Playstation 2
Trigger Heart Exelica Enhanced- 3/26/09
Playstation 3
Final Fantasy VII: Advent Children Complete (With Final Fantasy XIII Demo)- 4/16/09
The Godfather II- 4/16/09
Killzone 2- 4/23/09
Wii
Monster Hunter G- 4/23/09
Nintendo DS
Gyakuten Kenji- 5/28/09
Zaidanhoujin nippon kanji nouryoku kentei kyoukai koushiki sofuto 250 bannin no kan ken puremiamu zen kyuu zen kanji kanzenseiha (This title was only notable because of how damn big it is. It's little more than a Kanji tutor)- 4/23/09
PSP
Fantasy Golf Pangya PORTABLE- 4/16/09
Makai Senki Disgaea 2 Portable- 3/26/09
Xbox 360
Deathsmiles (Side scrolling shmup by Cave)- 4/23/09
The Godfather II- 4/16/09